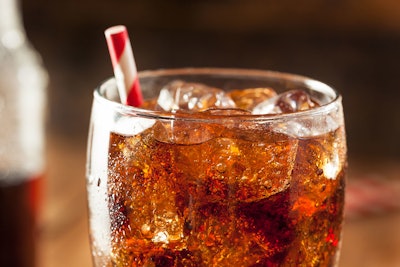 SANTA FE, N.M. (AP) — Political groups spent at least $163 per vote to sway the outcome of a soda tax proposal that New Mexico's capital city resoundingly rejected, eclipsing the costs of recent campaigns in other cities and raising the financial stakes in efforts to tax sweetened beverages nationwide.
Soda tax advocates shifted their attention Wednesday to efforts in Seattle and the county encompassing Portland, Oregon, and to lobbying state Legislatures in Massachusetts and other Northeast states.
Voters in Santa Fe delivered a rare victory to the soft drink industry with Tuesday's results. A string of taxes on sugary beverages won approval last year from Philadelphia to the California cities of San Francisco and Oakland.
Campaign finance reports show political groups spent at least $3.25 million ahead of the New Mexico special election on the tax for early childhood education, with pro- and anti-tax groups spending similar amounts.
Election officials counted 19,915 ballots — putting per capita campaign spending around $163. Additional political spending in the final days of the campaign has yet to be reported.
About 58 percent of Santa Fe voters rejected the tax — meaning anti-tax campaigns got more for their money.
Billionaire Michael Bloomberg, a financial backer of numerous soda tax initiatives since his tenure as New York City mayor, contributed $1.1 million to a pro-tax committee in Santa Fe. The American Beverage Association spent $1.3 million against the tax, saying it was compelled to expose its effect on working families and businesses.
The expenses far exceeded last year's soda-tax campaign in the slightly larger city of Boulder, Colorado, where an estimated $1.8 million was spent on the most expensive ballot initiative in its history.
Per capita political pending in Santa Fe also far surpassed successful soda tax initiatives in San Francisco and Oakland, said Jim Krieger, a public health expert and director of the Seattle-based group Healthy Food American, which supports soda taxes.
Voters in Santa Fe, where the tax would have expanded pre-kindergarten programs to about 1,000 children, expressed exasperation at the barrage of fliers, phone calls and persistent videos on social media.
"I had endless people knocking on my door," said Michelle Romero, a paralegal who voted against the tax. "It's big business, and they've got the money to fight it."
Behind the political spending stands the potential for cities to tap a source of revenue to fund social programs for years to come.
"If the tax had passed in Santa Fe, it was going to raise somewhere between $7 million and $8 million a year, more than double what was spend on the campaign," Krieger said. "The return on investment is quite good."
Bloomberg appeared to be undeterred after the defeat, as a senior adviser pointed soda-tax measures adopted by seven local governments since 2014.
"We will continue to support local efforts that protect and improve the health of our children," said Howard Wolfson in a statement.
The American Heart Association insisted that spending nearly $20,000 was worthwhile, even in defeat — describing a 30-day blitz of discussions about the health consequences of sugar consumption.
"We will have improved the health of people in Santa Fe by raising awareness and by motivating people to move to things other than sugar-sweetened beverages," said Eduardo Sanchez, the association's chief medical officer.
Soft drink executives, meanwhile, find themselves responding to soda tax initiatives with more than political ads.
PepsiCo CEO Indra Nooyi told investors in late April that the company is trying to hedge against the soda tax movement by including low- and zero-sugar products and bolstering non-drink products.
"When the taxes do come, we can cushion the effect," she said.