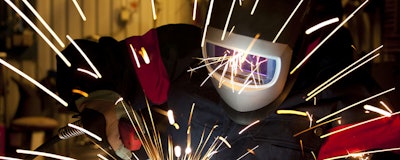 According to the December 2016 U.S. Manufacturing Technology Orders Report from The Association For Manufacturing Technology (AMT), manufacturing technology orders finished 2016 down 4.0 percent compared to 2015. When comparing month over month, December 2016 orders were up 20.6 percent compared to November 2016.
"There has been a significant uptick in shipments for cutting tools, the primary consumable in the manufacturing process, and machine shop spending for the month was up 32 percent from November," said AMT president Douglas K. Woods in a statement. "Since large manufacturers will leverage their supply chain's capital equipment before expanding their own capacity, gains for machine shop investment are promising because they typically mark an overall greater need for capacity, and a broader upturn on the horizon."
The January PMI from the Institute for Supply Management was 56, indicating expansion in manufacturing for the fifth consecutive month and indicates that the general manufacturing economy is showing signs of growth including capacity utilization and industrial production. Additionally, increased capital investment from machine shops and a boost in shipments for cutting tools indicates that activity is growing and manufacturers are in need of increased capacity.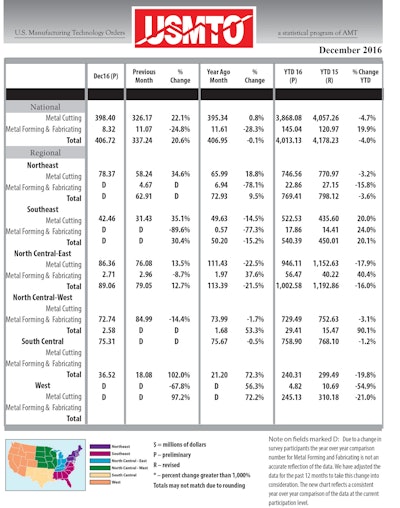 Orders for December 2016 totaled $406.72 million and was the second highest for the year after September's $503.67 million due to orders registered from The International Manufacturing Technology Show (IMTS). Total orders for 2016 were valued at just over $4 billion compared to almost $4.2 billion in 2015.
USMTO is a reliable leading economic indicator as manufacturing companies invest in capital metalworking equipment to increase capacity and improve productivity.