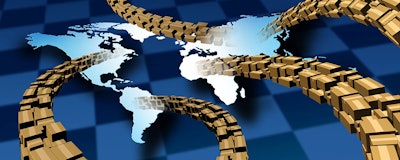 While the fundamental strategies of successful global sourcing remain constant, two factors have considerably changed in recent years (especially in the first half of 2016) — the speed of change in global economics and evolving consumer shopping patterns. As a result, supply chain executives have been forced to re-work traditional supply chain management concepts and operations. Only companies that are transforming processes and leveraging digital technologies will be resilient enough to succeed. Removing age-old functional silos between teams within the supply chain — especially sourcing and logistics groups — will be a key part of that transformation.
Sourcing concepts have remained fairly constant throughout history: make high quality goods at the lowest possible cost. Likewise, logistics operations operate on key factors that are fundamental to that side of the operation: ship those goods in the most efficient, cost-effective manner. But digital transformation is driving organizations of all sizes to think about how they have to evolve with the demands of the 'perpetually-connected' business environment and consumer. These advancements are the hottest topics of discussion among supply chain leaders today, yet the dynamics of supply chain operations need to be equally addressed to make the transformation complete.
A recently published report shows the industry as whole doesn't understand the importance of having a deep integration between sourcing, logistics and trade compliance. In the June 2016 American Shipper survey and report, The Source of Collaboration, research director Eric Johnson calls out "a significant disconnect between those that see the benefit of using technology to link sourcing, logistics and compliance, and those that have such a system. In other words, many sourcing professionals recognize the need for cross-department cohesion; they just don't see a way to get there."
Digitally Enlightened Consumers
Consumers have the ability to make or break a brand. Demand will only continue to increase as more and more shop for apparel online. Clothing is becoming one of the hottest online growth categories, and leading that charge is Amazon.com. It will soon turn the industry on its head by becoming the top U.S. apparel retailer, comfortably usurping Macy's for that title. Further evidence of the shift from brick and mortar to online shopping was realized in Macy's August announcement to reduce its physical footprint with the closure of another 100 stores, the bankruptcy of Sports Authority and even Walmart's plan to close over 200 stores. Online shopping will continue to dictate how rapidly and effectively consumer goods production, sales and fulfillment need to be for brands to remain competitive and profitable.
Some companies are moving ahead with investments that emphasize supply chain efficiency, reliability and scalability. These companies also have their eye on achieving supply chain agility, speed and resiliency to take advantage of emerging digital business models. They are looking to align supply chain planning and execution, network design, supply chain visibility and new product development processes with merchandise, inventory and operations execution.
Gartner's 2015 Top Technology Trends report reveals that the current state of deployed supply chain technologies varies widely across the industry. Up to 63 percent of companies report they have supply chain management (SCM) applications in place and 47 percent have multi-channel order management, reflecting the importance of multichannel commerce.
When companies were asked which technology improvement initiative has given their businesses the most value, the top answer was SCM, with CRM and multichannel order management tying for a distant second. The issue is not necessarily technology adoption, but integration or even synergy. Fewer than 5 percent of retailers surveyed in a 2016 American Shipper study said they lack automation for their sourcing, so it's clear that technology is being used. The problem is that most sourcing technology tools — like product lifecycle management (PLM) and SCM systems — aren't necessarily well connected (if at all) to logistics, compliance or broader global trade management (GTM) systems.
More effective collaboration within internal teams — and between companies and their manufacturers — is critical to bring products to market faster and respond quicker to consumer and economic shifts, all while keeping costs down. The solution is to automate every function required to efficiently design, produce and move goods internationally.
To do it right, companies have to take a holistic, integrated approach that encompasses product development, sourcing optimization, foreign supplier management, product and factory risk, quality assurance, and the management of export, global transportation, duty, import and logistics processes.
Gary M. Barraco is Director of Global Product Marketing at Amber Road.