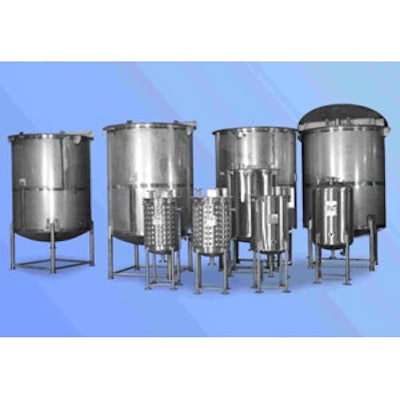 Charles Ross & Son designs and builds custom-fabricated tanks, stirred reactors, and pressure and storage vessels with capacities up to 70,000 gallons. The tanks can be constructed for either horizontal or vertical installation, and in any material — from carbon and stainless steel to aluminum and titanium to Monel, Hastelloy and Inconel. Moreover, according to the company, the features that are routinely supplied on Ross fabricated vessels and reactors include:
Charge and discharge ports.
A vacuum and/or internal pressure design.
An agitation system.
A heating/cooling jacket or coils.
Sheathing and insulation.
Special polishes and coatings.
Mounting frames and brackets.
Control systems.
The capability to meet sanitary requirements.
The ability to provide an ASME code stamp as needed.
Compliance with USFDA, BISSC, ABS, API650, API620 and U142 if necessary.
The flexibility to accept fabrication projects of virtually any size and complexity at competitive prices.