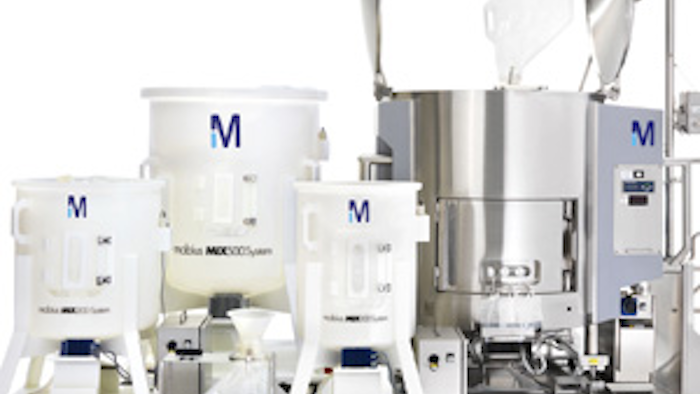 EMD Millipore's Mobius® MIX 1000 and Powder Delivery System is made for mixing pharmaceutical ingredients and preparing solutions. According to the company, the 1,000-liter system:
Extends the company's line of Mobius® mixers that includes 100-, 200- and 500-liter sizes.

Utilizes integrated, single-use powder delivery, mixing and filtration technology.

Provides biopharmaceutical manufacturers with increased operational flexibility and decreases process and validation time and contamination risk.

Features a butterfly valve for controlled addition of solutes to ensure optimal dissolution.

Offers an asymmetric design that enhances powder delivery by minimizing clumping and blockage resulting in optimal powder flow, and consistent mixing.

Features a unique washdown 'spraybar' in the powder delivery container, which ensures that residual powder is effectively removed.

Includes a double jacket for the sides and the bottom for efficient heat exchange, thermowell for temperature measurement, and load cells for weight measurement.