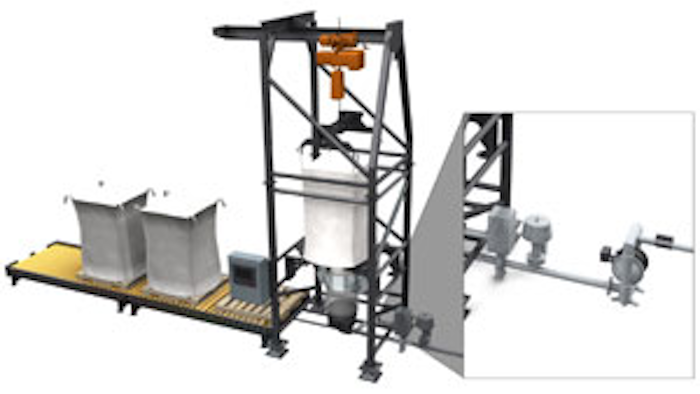 National Bulk Equipment has specially treated this pneumatic conveying system to transfer a highly corrosive, granular material; use integrated automation to minimize human exposure to the material; and optimize process efficiency with an upstream bulk bag-unloading system. According to the company, this system further boasts:
The transfer of pneumatically conveyed material to the downstream wetting process, in batches, based on calls from weigh-system sensors.
A total system capacity that exceeds 9,500 pounds per hour.
The elimination of operator exposure to caustic material.
Construction from specially coated stainless steel tubing and components to reduce wear.
Teflon®-coated process-critical components and valves.
Integrated automation to centralize system control, communication, monitoring and reporting.
NEMA 12 dust-tight enclosures.
A single UL-listed human-machine interface.
Optimized operator physical ergonomics.
Compliance with application-appropriate codes, standards and regulations.