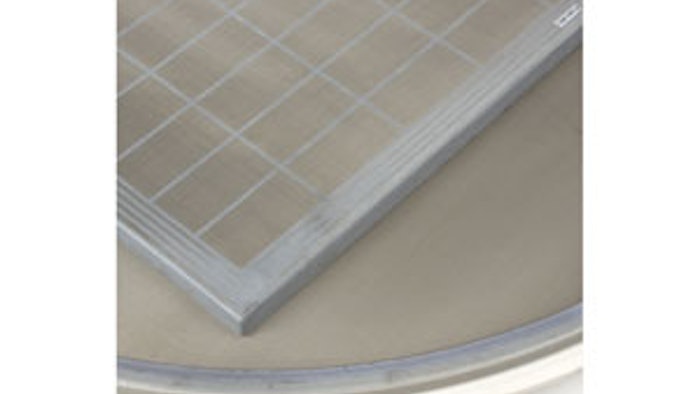 SWECO's Fusion™ screen with an integral gasket "molded design" features complex robotic construction. According to the company, the screen is additionally characterized by:
It creates precise repeatable tensioning and engineered uniform integral strain relief.

The integral gasket, which is comprised of the gasket, strain relief and screen frame, is one molded part, as is the one-piece center disc with integral strain relief.

The screen's manufacture boasts no silicone/no adhesive, as the mesh is fused into the screen frame and center disc.

The repeatability of the robot construction assures precise tensioning, lower tolerances, smaller deviations of the screens and more rapid turnaround time (allowing you to get your screens faster).

The unitary construction integrates the screen gasket directly into the tension ring, eliminates the handling and stocking of separate gaskets and provides a precision fit into the separator.

This unitary design also reduces cracks and crevices, producing a more "cleanable" screen with less potential for cross-contamination.

The one-time use ring is disposable, saving handling and shipping fees to return the rings.

Fusion Screens are available in 48-inch (1200mm) and 60-inch (1500mm) sizes.

Also available is Fusion Plus™, a screen with components that are FDA approved for food contact.

Fusion Screens are also available for Rectangular Separators — Fusion Rectangular Screens feature a cellular construction which utilizes a robust cage design reinforced with high-tensile-strength steel rods.

 


PTXi Booth #1204