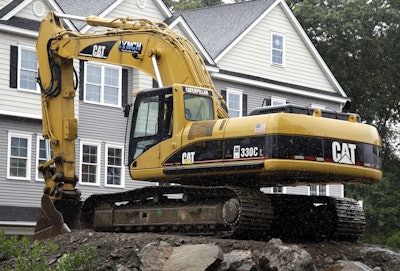 Caterpillar beat most profit and revenue expectations in the third quarter, but company shares were punished Tuesday when Wall Street sensed some pessimism in the company's outlook, which remains unchanged.
Shares dropped 9 percent in early trading, with losses compounded by a global sell-off on stock markets.
Caterpillar Inc. still anticipates full-year adjusted earnings of $11 to $12 per share. This is in range of the $11.64 per share that analysts polled by FactSet predict, but the construction equipment company had raised the forecast twice this year and investors appeared to expect more of the same.
For the three months ended Sept. 30, Caterpillar earned $1.73 billion, or $2.88 per share. A year earlier the Deerfield, Illinois-based company earned $1.06 billion, or $1.77 per share.
Stripping out restructuring costs and a tax benefit, earnings were $2.86 per share. Analysts were calling for $2.84 per share.
Revenue climbed to $13.51 billion from $11.41 billion, with sales rising in its construction industries, resource industries, financial products and energy and transportation segments. Wall Street expected $13.26 billion in revenue.