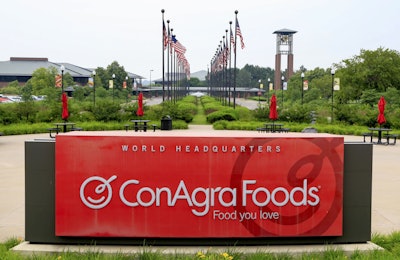 NEW YORK (AP) — ConAgra is spinning off its frozen potatoes business in an ongoing effort to intensify its focus on key name brand foods.
The company said Wednesday that it will split off leading brands such as Chef Boyardee and Healthy Choice into Conagra Brands Inc. It will spin off its frozen potato business under the Lamb Weston name.
The split is expected to be complete by fall of 2016.
"The decision to separate into two pure-play companies reflects our ongoing commitment to implementing bold changes in order to deliver sustainable growth and enhanced shareholder value," said CEO Sean Connolly, in a printed statement.
There have been some big changes at ConAgra this year. The company announced the sale of most of its private-label operations to TreeHouse Foods Inc. for about $2.7 billion and 1,500 job cuts jobs, about 30 percent of its office-based workforce, as it moves its headquarters from Omaha, Nebraska, to Chicago.
Conagra Brands Inc., with Connolly as CEO, will include the Marie Callender's, Hunt's, ROTEL, Reddi-wip, Slim Jim, PAM, Chef Boyardee, Orville Redenbacher's, P.F. Chang's, and Healthy Choice brands. It will also include several other businesses, such as Spicetec Flavors & Seasonings. The operations included in the restructured company comprised $7.2 billion in revenue in fiscal 2015.
Lamb Weston's portfolio will consist of frozen potato, sweet potato, appetizer and other vegetable products, and will have a continued presence in retail frozen products under licensed brands and private brands. ConAgra said Lamb Weston generated revenues of approximately $2.9 billion in fiscal 2015.
Leadership at Lamb Weston will be determined at a later date.