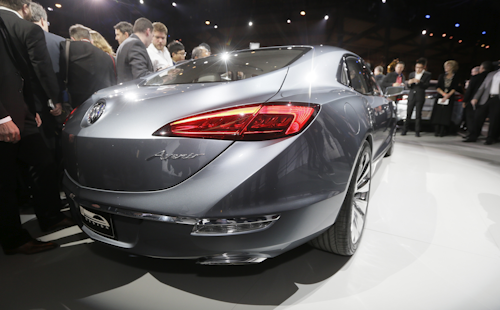 DETROIT (AP) — It looks like General Motors' growing Buick brand will soon get a big, sporty rear-drive sedan.
On the eve of the first press day at the Detroit auto show, the company unveiled the Buick Avenir, a coupe-like four door with an athletic stance.
For now it's a concept car and GM won't say when or if it will be built. But Buick lacks a large flagship sedan that would compete with expensive and highly profitable German and Japanese luxury brands.
Product development chief Mark Reuss said Sunday night that Buick definitely needs a car in the segment, but he stopped short of saying that the one GM showed off has the green light for production.
"We're going to have to judge reaction and see how it goes," he said. "Clearly it's a beautiful vehicle."
If the car is built, the same vehicle would be sold in China and the U.S., Buick's two biggest markets, because consumer preferences in the two countries have become similar, Reuss said. GM didn't release many details about the car at an event in Detroit, but here are highlights so far:
UNDER THE HOOD: The concept has a 3.6-Liter V6 engine and a six-speed automatic transmission. But those likely are just placeholders. GM said the car was developed jointly in the U.S. and Australia, where many of GM's V-8 powered rear-wheel-drive cars have been designed. It's likely to have a nine or 10-speed transmission to get better gas mileage.
INSIDE: Four seats, cream-colored leather interior, big center stack with controls for the infotainment and climate controls.
OUTSIDE: Elegant creases, a muscular looking front end. Athletic stance with 21-inch wheels. Coupe-like sloping rear roof line that is tapered and rounded.
COMPETITORS: BMW 7 Series, Audi A8, Mercedes E Class.
PRICE: Not revealed. Will cost more than Buick's current big car, the front-drive Buick Lacrosse, which starts about $33,600.
---
More from MBTMag.com
Manufacturing Job Growth Up In 2014
GM CEO Barra Says 1st Year Marked By Disappointment, Progress
Union Efforts Could Jeopardize VW Expansion Package
Explore more news
here
.