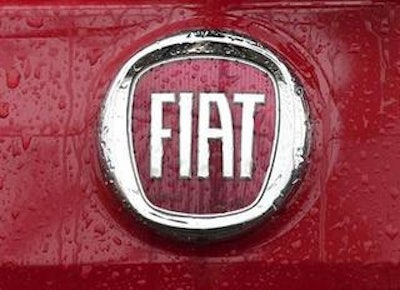 DETROIT (AP) — Italian automaker Fiat SpA announced Wednesday that it reached an agreement to acquire the remaining shares of Chrysler for $3.65 billion in payments to a union-controlled trust fund.
Fiat already owns 58.5 percent of Chrysler's shares, with the remaining 41.5 percent held by a United Auto Workers union trust fund that pays health care bills for retirees.
Under the deal, Fiat will make an initial payment of $1.9 billion to the fund, plus an additional $1.75 billion upon closing the deal.
Chrysler will also make additional payments totaling $700 million to the fund as part of an agreement with the UAW. The deal is expected to close on or before Jan. 20, according to a statement from Chrysler.
Sergio Marchionne, CEO of both Fiat and Chrysler, has long sought to acquire the union's shares in order to combine the two companies.
"The unified ownership structure will now allow us to fully execute our vision of creating a global automaker that is truly unique in terms of mix of experience, perspective and know-how, a solid and open organization," Marchionne said in a statement issued by Turin, Italy-based Fiat.
The deal eliminates the need for an initial public offering of the union fund's stake, which analysts had previously valued at $5.6 billion.
Fiat went to court last year seeking a judgment on the price, but the trial date was set for next September.
Marchionne can't spend Chrysler's cash on Fiat's operations unless the companies merge. In recent months he made it clear that he preferred to settle the dispute without an IPO, but filed the paperwork for the offering in September at the trust's request.
Chrysler's profits have helped prop up Fiat on the balance sheet as the Italian automaker struggles in a down European market.
The Auburn Hills, Mich., automaker earned $464 million in the third quarter on U.S. sales of the Ram pickup and Jeep Grand Cherokee, its ninth-straight profitable quarter. The results boosted Fiat, which earned $260 million in the quarter. Without Chrysler's contribution, Fiat would have lost $340 million.
---
More from MBTMag.com
Samsung Sells 110-inch Ultra-HD TV For $150,000
NJ Man Sued By Electric Motorcycle Co. He Co-Founded
Labor Dept. Approves Help For Displaced Vt. IBM Workers
Explore more news

here

.