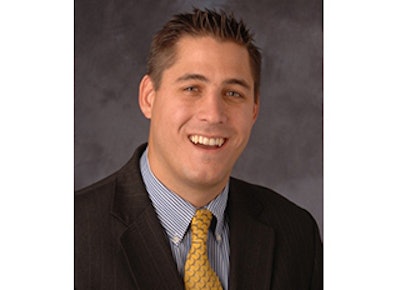 Interview with Connor Marsden, U.S. Lead, Microsoft Dynamics CRM
As food manufacturing becomes an increasingly global business, it is more important than ever for companies to stay connected to their employees — wherever they may be located. Food Manufacturing spoke with Connor Marsden of Microsoft Dynamics CRM about the latest technology available to food manufacturers looking to keep in close contact with their workforce.
Q: What unique challenges do food companies face when setting up connections with employees at new locations?
A: In the food and beverage world, the three consistent challenges are distance, time and complexity. First, product must be transported over considerable distances without significant deterioration of its quality or freshness. Second, unlike many other products, these items have a relatively brief time limit attached to their viability for sale. And third, beverage products especially are sold by manufacturers to distributors, who then sell them to retailers.
This can become a complex network of transactions and communications, all driven by time demands and distance barriers.
So food and beverage producers are largely organized in ways designed to reduce the distance between their supply, their distributors and their customers, and they are constantly seeking ways to streamline ordering processes to keep shipments timely.
All this requires extensive field operations — often far-flung distributors to serve retailers in every corner of the country. But this structure can add its own distance, time and complexity issues if not handled efficiently.
Q: How can these challenges be mitigated?
A: Many producers have implemented customer relationship management (CRM) technology. CRM like that offered by Microsoft Dynamics allows sales people in the field to see the availability of supply and each customer's history of orders and requests, all in real time.
As new distributorships and retailers are added to the network, communicating with them and tracking their needs becomes much simpler because all the records are housed on a central database at company headquarters — or even in the cloud — and sales staff can access it anywhere in the world at any time on their tablet computers.
Q: What is CRM technology, and how can it help the food industry?
A: CRM technology involves either dedicated software or cloud-based services that help sales, marketing and customer care teams work as one to personalize their contacts and transactions to fit the needs of each customer. The entire history of a customer's relationship with the organization is available at every stage of communication, so the right message and the right transaction can be delivered at the right time to every customer.
Q: How did New Belgium Brewing use CRM technology to improve its business operations?
A: The New Belgium Brewing Company, based in Ft. Collins, Colo., is the third-largest craft brewer in the United States, distributing its product to 30 states. New Belgium's sales team, known as "Beer Rangers" in keeping with the company's Western heritage, serve as liaisons to distributors, bars, restaurants and liquor stores — the entire sales supply chain.
When they are in the field, Beer Rangers access New Belgium's Microsoft Dynamics CRM data through a custom-developed application on tablet computers; when they are in their home offices, they can work with the same data through their Microsoft Outlook application.
The company tells us its salespersons appreciate the flexibility that CRM provides in terms of timeliness and distance, and CRM makes the whole process less complex. The selling process for New Belgium has become much more collaborative now that customers can see their own buying trends and needs and better evaluate recommendations from their regional Beer Ranger.
Q: What should food businesses consider when looking for effective ways to harness information to improve operational processes?
A: The most important thing to remember is that information — whether sales figures, sales plans, customer trends, demographic changes or other influences on profitability — is only as good as its accessibility. The best way to improve processes is to make sure that everyone can see the same set of information, in real time, and make judgments based on the current status of their relationships with their customers. As business sectors become increasingly international and then global, this data must be available 24/7 to capitalize on working hours and customer preferences in every time zone.
Cloud-based CRM and integrated CRM software can keep food and beverage companies in constant touch with their clientele, enable the scheduling of contacts on an individualized basis with each customer and make it easy to run and evaluate the results of sales campaigns.