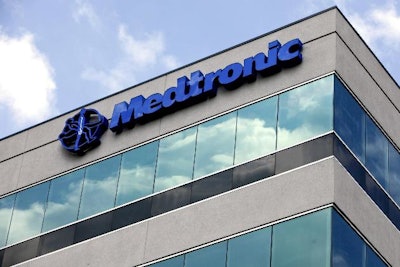 NEW YORK (AP) -- A federal jury ruled Wednesday that medical device maker Medtronic infringed on a patent held by Edwards Lifesciences and ordered Medtronic to pay its competitor about $390 million in damages.
Edwards said it will seek a permanent injunction to stop Medtronic's CoreValve system from going on sale in the U.S.
Medtronic said it will appeal the ruling. It expects to win regulatory approval of the device and start selling it in the next few months.
The two sides have been in court for years over replacement heart valves that are designed to be implanted through minimally invasive surgeries. The Food and Drug Administration approved Edwards' Sapien heart valve in November 2011 and granted a broader marketing approval in October 2012.
Multiple federal courts have ruled that Medtronic's CoreValve System infringes on patents belonging to Edwards. In 2010 a jury awarded Edwards $73 million in damages. An appeals court upheld the ruling and Medtronic made an initial payment of $84 million in that case last year, Edwards said.
The companies differed slightly Wednesday on the size of the award, as Edwards said the jury awarded it $394 million and Medtronic said it was ordered to pay $392.5 million. The verdict came from a jury in the U.S. District Court for the District of Delaware.
The Irvine, Calif.-based company said that it could pursue more than $1 billion in damages because the jury found Medtronic's patent infringement was deliberate.
Minneapolis-based Medtronic Inc. said it has won multiple legal cases involving a similar patent in Europe. The company said it expects to get regulatory clearance and launch CoreValve before the end of its current fiscal year, which ends April 25.
Edwards Lifesciences Corp. shares rose $1.29, or 1.8 percent, to close at $71.89. Medtronic stock fell 8 cents to $59.33.
---
More from MBTMag.com
GM Predicts Modest Pretax Profit Gain This Year
Va. Manufacturing Research Center Gets New Member
U.S. Wholesale Costs Rise On Gas Prices
Explore more news

here

.