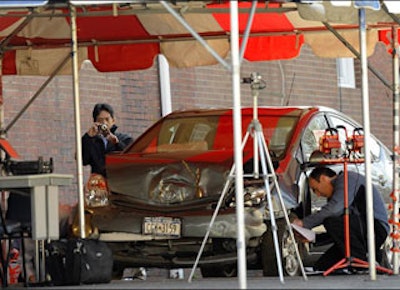 DETROIT (AP) -- Starting next summer, U.S. consumers will be able to search a giant database to find out if recall repairs have been made to their cars or motorcycles.
The National Highway Traffic Safety Administration, the agency that regulates auto safety, says it will require major auto and motorcycle makers to give customers online access to data so it can be searched by vehicle identification number.
Only about 70 percent of recalled vehicles are taken to dealers for repairs, leaving thousands of cars on the road with critical safety flaws. The database would let used car shoppers or owners search the database for free to see if all recall work had been done.
The searches will give people "peace of mind knowing that the vehicle they own, or that they are thinking of buying, is safe," NHTSA Administrator David Strickland said in a statement.
Some automakers, such as Ford Motor Co., already offer the searches. But those who don't will have to have to make the data available by Aug. 14 of next year, NHTSA said in a statement issued Wednesday. People also will be able to get at the data through NHTSA's website, www.safercar.com , which will have secure connections to the manufacturers' systems.
Customers will be able to go to NHTSA's website and key in a unique vehicle identification number. NHTSA plans to develop an app for mobile devices as well, the agency said.
Currently, people can search NHTSA's database by company, model and model year to find out if they have been recalled. But they can't find out if the repairs have been done on a vehicle.
NHTSA said its rule on the databases also requires manufacturers to tell NHTSA about each car's propulsion system and safety technologies. The agency says this will help it spot problems with the systems. Also under the rule, auto and motorcycle makers will have to notify owners about a recall within 60 days of telling NHTSA of the recall, the agency said.
---
More from MBTMag.com
Eurozone's Longest-Ever Recession Comes To An End
Samsung Faces Brazil Lawsuit Over Labor Conditions
Kia, Hyundai Labor Unions Vote To Strike
Explore more news
here
.