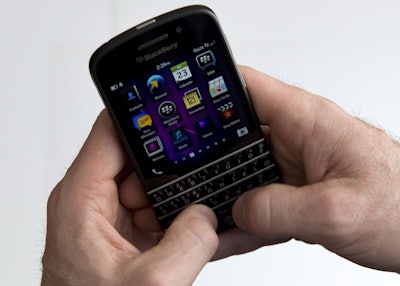 TORONTO (AP) — Fairfax Financial Holdings said Wednesday it is buying another $250 million of convertible debt in BlackBerry in what Fairfax says is a show of confidence in the troubled smartphone maker's new management.
Fairfax, BlackBerry's largest shareholder, led an investment group that injected $1 billion into the company last fall.
The insurance and investment firm invested $250 million as part of that initial deal, which gave it an option to make an extra $250 million investment before a Monday deadline.
Fairfax President Paul Rivett told The Associated Press on Wednesday that the investment signals Fairfax's confidence in new chief executive John Chen, who took over in November in a management shake-up that coincided with Fairfax's increased investment.
"We believe the market is only just beginning to see the true potential of BlackBerry under the leadership of John and the team he has assembled," Rivett said.
Chen is credited with turning around Sybase, a data company that was sold to SAP in 2010. He has said reviving BlackBerry will be his most "complicated" challenge but that the company has plenty of cash to help him engineer a turnaround.
The CEO announced last month that BlackBerry is entering into a five-year partnership with Foxconn, the Taiwanese company that assembles products in vast factories in China. Foxconn, known for its manufacturing contract work on Apple's iPhones and iPads, will jointly design and manufacture most BlackBerry devices and manage inventory of the devices in an agreement that will offload much of BlackBerry's manufacturing costs.
Chen has said the company "is very much alive" but is putting more emphasis on Blackberry's software business than its hardware business.
The BlackBerry smartphone, pioneered in 1999, had been the dominant mobile device for on-the-go business people and other consumers before Apple introduced the iPhone in 2007. Apple's device showed that phones could handle much more than email and calls. In the years since, BlackBerry has been hammered by competition from the iPhone as well as Android-based rivals.
U.S.-traded shares in Waterloo, Ontario-based BlackBerry Ltd. ended Wednesday up 4 cents at $8.54.
---
More from MBTMag.com
Goodyear Sues Over 'Boss-Napping' In France
Fishermen Sue Texas Lawyer In BP Claims Dispute
From Promising Biofuels Pitch To Federal Custody
Explore more news
here
.