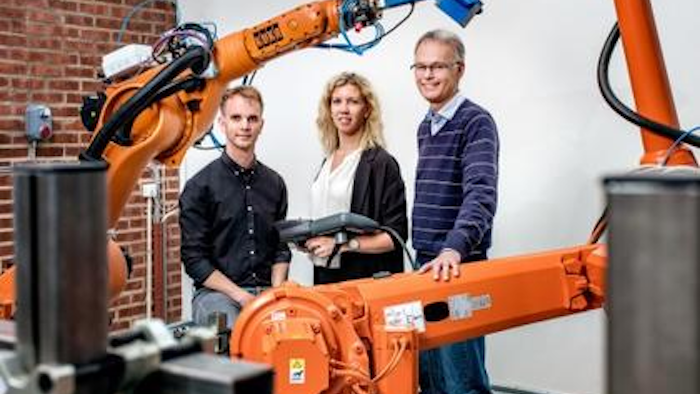 Industrial robots consume energy even while they're standing still. Because of this, optimizing energy use for one of these heavy-duty bots can become a game of finding the best timing for periods of rest and acceleration. Researchers at Chalmers University of Technology have developed an optimization algorithm to smooth out movements and reduce energy consumption in industrial robots by up to 40 percent.
The key is to reduce both acceleration and deceleration, with a more relaxed pace allowing the robot to coordinate more efficiently with the others around it.
"We simply let the robot move slower instead of waiting for other robots and machines to catch up before carrying out the next sequence. The optimization also determines the order in which the various operations are carried out to minimize energy consumption – without reducing the total execution time," said Professor Bengt Lennartson, who initiated the research together with General Motors and other partners.
This doesn't change the robot's operation path, just its speed and sequence.
The optimization tool can also coordinate several robots working in the same area, calculating which ones are likely to collide and adjusting accordingly. The optimizer logs the movements of each robot during an operations cycle, and feeds this information through the optimizer and back into the robots as new control instructions.
Initial test results have shown a 15 to 40 percent energy reduction, said Kristofer Bengtsson, head of the implementation of the optimization strategy.
Further testing in real-world industries is required in order to more accurately estimate energy savings, he said.
"The goal is to make this kind of optimization standard, and included in robots from the start. At each adjustment of the operating sequences, a new optimization is conducted by default. But as we all know, it takes time to bring a development product into a robust production process, with several years of engineering work," said Bengtsson.
Robots consume about half of the total energy used for production in highly automated manufacturing processes such as automotive bodywork factories, the press release from Chalmers said.
The optimization tool is being developed as part of the European Union research project Areus.