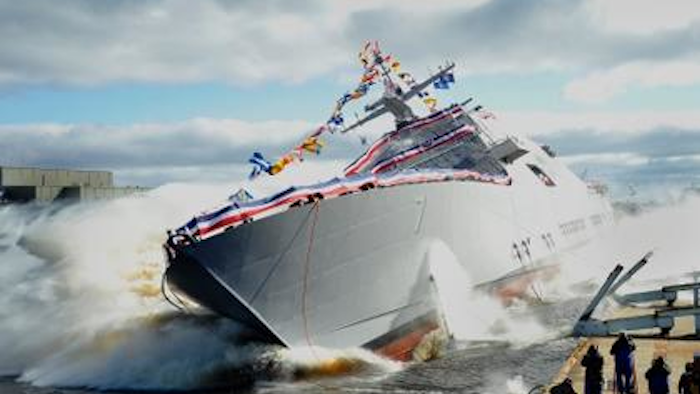 A northeastern Wisconsin shipbuilder hopes that business principles borrowed from the auto industry will help secure a multi-billion dollar defense contract in two years' time.
Reuters recently profiled Marinette Marine and its president, Jan Allman, as the Italian-owned company aims to ramp up production of ships for the U.S. Navy.
Marinette is already producing half of the 32 Littoral Combat Ship models ordered by the Navy from top defense contractor Lockheed Martin. The LCS originally drew criticism over its cost and performance, but proponents said each concern has since been addressed.
In 2017, the Navy is expected to decide whether to continue that split arrangement or choose between rivals Marinette and Austal to produce 20 more vessels.
Fincantieri, the Italian shipbuilder that acquired Marinette in 2009, invested $100 million to upgrade the shipyard near the border with Michigan's Upper Peninsula, but the company also generated cost savings through lean manufacturing practices gleaned from Allman's decades in the auto industry.
Read more: Lean labor: Chapter one.
Navy officials lauded Allman's leadership since taking over in 2014, which included polling employees on additional cost-saving possibilities.
"We like what we see, from the way she's energizing her workforce," Rear Admiral Brian Antonio, who oversees the LCS program, told Reuters. "It makes a big difference in quality and the amount of rework because people are taking more pride in their job."
Officials from Lockheed, meanwhile, said the transition appears as through "a new shipyard came down on top of the old one and brought with it a state-of-the-art capability."