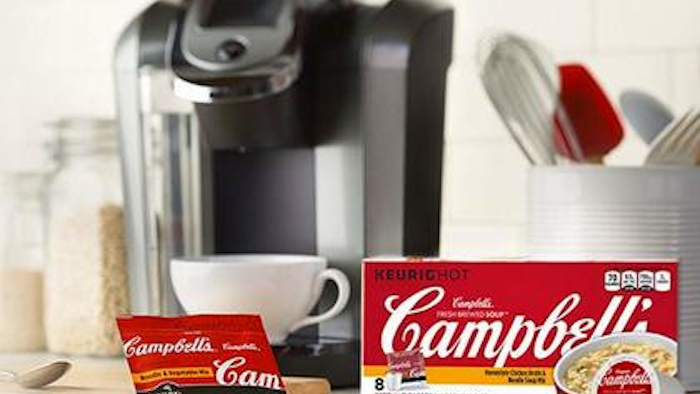 ​Keurig Green Mountain this week unveiled its first single-serve soup pods produced in partnership with Campbell Soup Company.
The announcement marks the first non-beverage K-Cups option from the maker of single-serve coffee machines as it aims to counter lagging sales.
"We are thrilled to offer consumers the ability to brew soup in their Keurig brewer, and the opportunity to use their brewer on more occasions throughout the day," Keurig's Mark Wood said in a statement.
The first varieties of Campbell's Fresh-Brewed Soup include Homestyle Chicken and Southwest Style Chicken.
Unlike the conventional Keurig brewing process — which makes coffee or tea at the press of a button — customers will empty a noodle packet into a cup, brew the soup K-Cup and let the mixture sit.
Campbell's officials said that 80 percent of consumers who purchase K-Cups also buy Campbell's soups. An eight-pack of soup K-Cups will cost $11.99.
General Mills' Progresso soups previously debuted a pod system, but those products are not affiliated with Keurig Green Mountain. Keurig's latest brewer is only compatible with K-Cups, a step that drew legal challenges from competitors.
Keurig last month announced plans to cut more than 300 jobs — or 5 percent of its workforce — after sales declined by 26 percent in the second quarter.