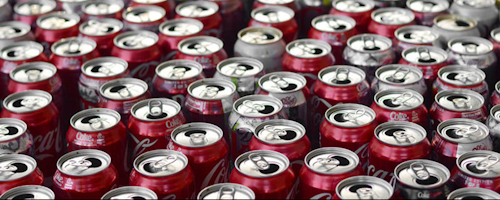 A Coca-Cola factory in Ireland ceased production last week after a machine became clogged with feces.
Shoppers can rest assured, as no contaminated drinks reached store shelves. Police have launched an investigation into how the, what appears to be human excrement, made its way into the shipment of cans to the Coke factory.
"The problem was identified immediately through our robust quality procedures," Coca-Cola said in a statement. "This is an isolated incident and does not affect any products currently on sale."
A source told the Independent  that the cans arrived at the facility without tops on. The cans are then filled with Coca-Cola, sealed and then sold across Northern Ireland.
"It was absolutely horrible, and the machines had to be turned off for about 15 hours to be cleaned," the source told the Independent. "It was unusual because normally the cans come from somewhere else in the UK, but this time they apparently came from Germany. The rumor is that some poor immigrants could have made that long journey in the lorry and that in their desperation were forced to use the cans instead of a toilet."
According to The Guardian, the Food Standards Agency stated that the incident is subject to an investigation by the Police Service of Northern Ireland (PSNI) and the environmental health unit of Lisburn and Castlereagh city council.