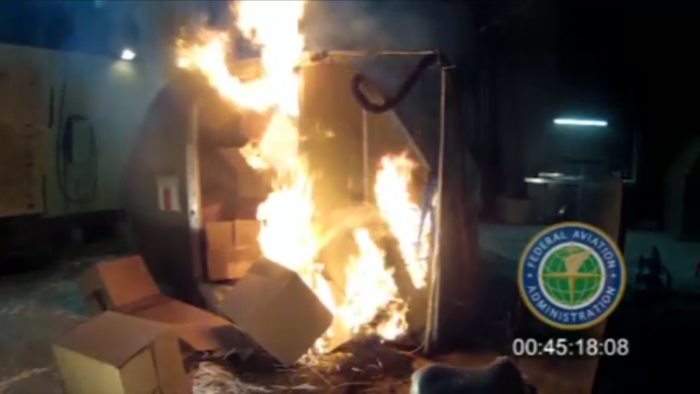 A United Nations advisory panel is calling for a ban on bulk shipments of lithium-ion batteries aboard passenger planes.
The Associated Press, citing anonymous aviation sources, reports that the International Civilian Aviation Organization's air navigation commission determined that the safety risk from battery shipments was too great.
Lithium-ion batteries power tech gadgets from smartphones to electric cars, but they are also prone to overheating.
Federal testing indicated that a single overheated battery could spread to the rest of a bulk shipment and cause uncontrolled fires or explosions in airplanes.
Aircraft manufacturers previously said that their planes couldn't withstand such fires, and several large airlines stopped accepting cargo shipments of batteries by early 2015.
The commission's recommendation needs the approval of the full ICAO to take effect; the agency is scheduled to meet in late February.
The recommendation does not apply to cargo planes despite appeals from pilots groups. Three downed planes that killed their pilots were attributed to battery fires since 2006.
The ICAO rejected a complete ban on air shipments of lithium-ion batteries in October and the latest proposal would allow the ban to be lifted if future safety developments make the practice safe.
Battery manufacturers oppose such bans and argue that authorities should instead target irresponsible packaging practices in China and other nations.