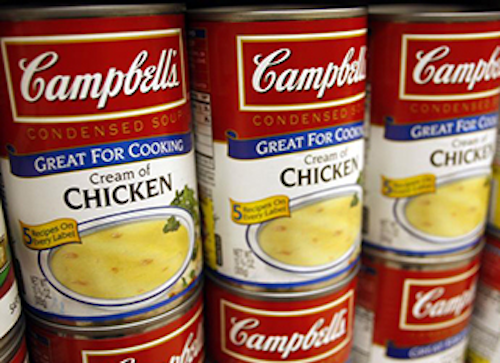 CAMDEN, N.J. (AP) — Campbell Soup Co.'s net income fell 36 percent for the fiscal second-quarter as sales of its canned soups and vegetable juice fell.
The company, whose brands also include V8 juice, Pepperidge Farm cookies and Prego pasta sauce, has been struggling as American's change tastes and shift away from processed foods and preservatives. In January, Campbell said it would restructure the company to create divisions based on food types to help grow its brands and save about $200 million in costs over three years.
In Wednesday's earnings report, the company said sales of Campbell's condensed soups in the U.S. fell 11 percent from the previous year while sales of ready-to-serve soups were flat. U.S. beverage sales fell 4 percent on weak demand for V8 V-Fusion, while sales at its Bolthouse unit, which makes bagged baby carrots and salad dressings, rose 1 percent. Sales at its global snacking unit, which makes Pepperidge Farm products, were about the same as the previous year.
Earlier this month, Campbell cut its 2015 earnings outlook to between $2.32 per share and $2.38 per share from $2.42 per share to $2.50 per share. Analysts expected earnings of $2.39, according to FactSet. It expects revenue for the year to be down 1 percent to up 1 percent from the year before.
Campbell reported net income of $207 million, or 66 cents per share, in the three months ending Feb. 1. That compares with $325 million, or $1.03 per share, in the same quarter a year ago.
The results fell short of Wall Street expectations. The average estimate of analysts surveyed by Zacks Investment Research was for earnings of 67 cents per share.
Revenue fell 2 percent to $2.23 billion, beating Street forecasts. Analysts expected $2.22 billion, according to Zacks.
Its shares fell 52 cents, or 1.1 percent, to $46.70 in premarket trading shortly before the market open. Shares of the company, based in Camden, New Jersey, are up 7.5 percent in the past 12 months.
_____
Elements of this story were generated by Automated Insights (http://automatedinsights.com/ap) using data from Zacks Investment Research. Access a Zacks stock report on CPB at http://www.zacks.com/ap/CPB