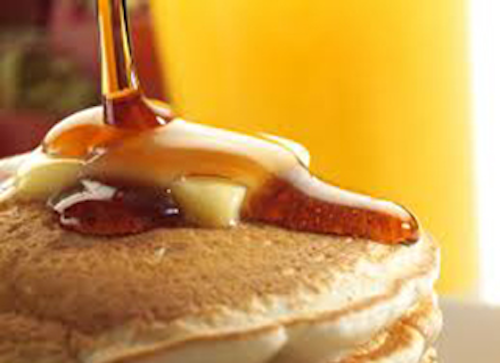 NEW YORK (PRNewswire) — Mark your calendars for one of the tastiest food holidays of the year – National Maple Syrup Day – on December 17. Known as "liquid gold" in Canada, 100 percent pure maple syrup is becoming a staple in American pantries due to its feel-good flavor. A new consumer usage study by JRS Consulting revealed that 52 percent of American adults purchased maple syrup in the past 12 months. Eight in ten maple consumers feel good about using maple syrup and buy the all-natural product for its great taste.
Noting the rising food trend of pure maple syrup in America, Canada, which is the world's largest producer of pure maple syrup, created various ways to help celebrate this fun food holiday. Snowday, a social enterprise, maple-themed food truck, will hand out free maple treats in New York's Flatiron District. In addition to a few of their most popular foods made with locally sourced ingredients, Snowday and Pure Canada Maple Syrup developed several additional maple menu items to delight New Yorkers.
"We are very excited to celebrate maple syrup made across all of North America," said Snowday founder Jordyn Lexton. The first food truck run by the hybrid profit/nonprofit organization Drive Change, Snowday recently won "Rookie of the Year" for the best New York City food truck at the 2014 Vendy Awards, the Oscars of street vending. The mobile eatery trains and employs formerly incarcerated young adults to help them build a better future.
On National Maple Syrup Day, Snowday and Pure Maple Syrup from Canada will offer free maple samples between 11:30 a.m. - 3:30 p.m. in the Flatiron District. The maple food truck will be located around 5th Avenue on the corner of 20th or 21st Streets. For exact location updates, follow the hashtag #ILoveMaple on Twitter.
"Let us treat you to lunch that day," says Genevieve Beland, director for promotion, innovation and market development at The Federation of Quebec Maple Syrup Producers. "Maple is so much more than a sidekick for pancakes, and our #ILoveMaple menu shows just how versatile maple can be." On December 17, Snowday recipes will incorporate pure Canadian maple syrup in the below recipes:
Maple Hot Cider
Maple Bacon Popcorn
Maple Grilled Cheese
Maple-Smoked Pork Sliders
Maple Snow Cones
Maple lovers across the country can celebrate National Maple Syrup Day in December with Pure Canada Maple's Pinterest contest. The 'Pin to Win' sweepstakes invites participants to pin their favorite of six recipes using the hashtag #ILoveMaple to be entered to win a $1,000 cash prize. The sweepstakes launched December 1 and will run through December 21, 2014. Enter on Facebook or PureCanadaMaple.com.  
National Maple Syrup Day helps raise awareness of pure maple syrup as a versatile ingredient beyond simply a breakfast topping: from a natural energy booster for health enthusiasts, to a flavorful ingredient in glazes and rubs in poultry, meat, seafood or vegetables, to an unexpected twist in classic cocktails. Pure maple syrup adds depth and complexity to a range of savory and sweet dishes throughout the holiday season and beyond.
About the Federation of Quebec Maple Syrup Producers 
The Federation of Quebec Maple Syrup Producers was founded in 1966 with the mission of defending and promoting the economic, social and moral interests of its 7,300 maple family farms businesses. These men and women are working together to collectively work on quality standards, create knowledge and market their products. Quebec is responsible for 91 percent of the Canadian production and close to 71 percent of today's global maple syrup output. Therefore the Federation is proud to lead promotional efforts and scientific research in the name of the entire Canadian maple syrup industry. Ontario, New Brunswick and Nova Scotia contribute seven percent of the total Canadian production.