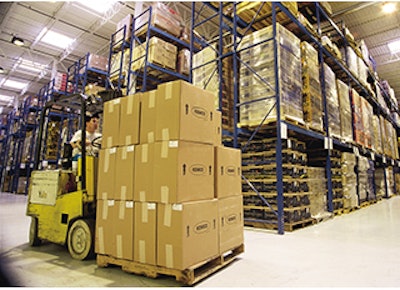 Larger retailers continue to put pressure on manufacturers to escalate production efficiency in order to enhance customer service though faster shipping to stores or home deliveries and personalized products. As a result, the role of warehouses and distribution centers has expanded well beyond the traditional product fulfillment function. For example, distribution centers are helping retailers improve consumer engagement and sales by serving as barometers to gauge market patterns for individual product performance and test new campaigns or product launches.
To meet these expectations, many manufacturers are adopting just-in-time production formats, lean manufacturing principles or following Kanban practices. In order to achieve these processes, manufacturers must implement different technologies into their supply chain. A simple, but extremely effective way to increase efficiency is to use on demand color printers during label production. Increased productivity gained at this stage of manufacturing will set the base for additional efficiency to occur along the supply chain, specifically in warehouse management and shipping for both the manufacturer and the retailer.
Label Production Efficiency
Many manufacturers conduct a two-step process when fulfilling labeling requirements. First, they order pre-printed color labels (i.e. labels with brand logos) in bulk and then they print variable black and white information, such as product serial numbers, on-site. However, given the frequency of label and product changeovers that take place during the production process, this method is neither cost nor time effective. Stockpiling pre-printed color labels also complicates matters when manufacturers seek to redesign graphics or reformulate their products, as they must either exhaust their existing label stock or absorb the cost for inventory that becomes obsolete. This is an increasingly common challenge for manufacturers, as they work to meet demands from consumers for personalization, introduce brand extensions and deliver exclusive versions of products to retailers to help drive sales.
When dealing with high-mix, low-volume manufacturing, it is essential for companies to have a flexible production process. On demand color printers offer manufacturers that flexibility in a one-step process. Color and black and white information is printed all at once and labels are produced as needed – and in the precise quantities needed. This one-step process helps manufacturers reduce total label costs by up to 50% through labor savings and decreased waste while also minimizing labeling and shipping errors and reducing the time needed to conduct changeovers.
Warehouse Management Efficiency
End-to-end supply chain visibility is crucial to optimizing warehouse organization. Manufacturers and retailers must develop and implement a reliable system that will allow for pickers to successfully and quickly sort through a large number of products, easily identify products in the wrong location and maintain continuous stock rotation. If supply chain visibility is not established, there is a higher probability for product waste and loss, such as fresh goods not being used by the expiration date or items that don't make it onto the shelf during specific seasonal cycles.
By using color labels as an identification tool, pickers spend less time reading and deciphering information. Highlighting critical product, safety or delivery data with color elements and images can streamline identification without the need for additional text. Adding pictures to secondary shipping labels also reduces the need to open boxes in order to identify the product inside, which can often render those products unsaleable. In addition, companies that operate in global supply chains can use color and picture labels as a communication tool that can be easily understood by any employee, eliminating potential language barriers that can lead to inefficiencies or errors.
Shipping Efficiency
Delays can occur in any step of a supply chain. Adopting technologies and processes that minimize these occurrences can eliminate additional time and costs while ensuring products are delivered in a timely manner.
On demand color labels can decrease the likelihood of order mix-ups during the shipping process and improve labor utilization with color-coded pallets and pick-up areas. In addition, retailers can benefit from the ability to target specific consumers through customized offers and seasonal promotions printed right on the label.
Both upstream and downstream businesses benefit from on demand color printing. Retailers can increase customized target marketing to consumers by using labels that take on the combined role of primary and secondary labels, while assisting their own distribution network with the ability to set up stores or warehouses as dual fulfillment centers. Manufacturers benefit from waste management of products and time spent in the picking process. In both instances, on demand color labeling increases efficiency for the manufacturers and the retailers.
About the Author
Andy Scherz is a Senior Product Manager with Epson America, a world's leading manufacturers of highly reliable point-of-service technology, including printers, precision printing mechanisms, digital image scanners and mobile printing solutions.