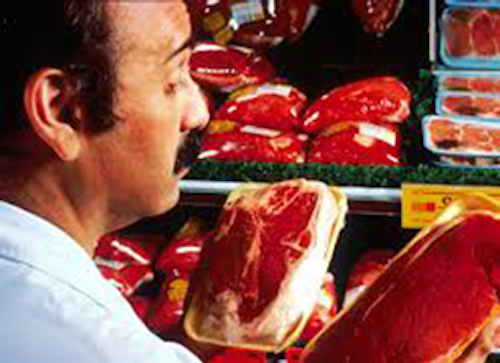 SEATTLE (PRNewswire) — How and where Americans shop for food is changing dramatically, according to a new study, Food Shopping in America 2014. The study unveils the evolving shopping landscape of not only where people shop, but who is doing the shopping. Increasingly, men (who now compose 43 percent of primary shoppers) are shopping frequently and they now make just as many monthly store visits as women.
Food Shopping in America 2014 is an in-depth qualitative and quantitative study jointly developed, conducted and interpreted by consumer research firm The Hartman Group and food and nutrition marketing agency MSLGROUP. It seeks to explain how consumers plan, decide and shop in the era of unlimited choices and blurring channels.
Study results show that, on average, U.S. grocery buyers shop three channels per week, including visits to grocery, specialty, mass merchandise, club, convenience, dollar and online stores. This results in 15 visits a month with 52% shopping at two or more stores per trip. Unlike past years, males and females are shopping the same amount, but you'll find them at different locations.
"You can no longer ignore the male shopper," says Steve Bryant, MSLGROUP Director of Food and Beverage. "With such a strong contingent of primary shoppers being men, today's male consumers need to be considered in product innovation, merchandising and other marketing efforts."
Understand and Attract the Male Shopper
Men are still less likely to be the biggest spender in the household, but more men are now helping their partners by sharing grocery shopping responsibilities and should be counted as a major force in the marketplace.
"Brands have the opportunity to understand the male shopper as their presence starts to dominate the shopping landscape," says Bryant. "This report is a powerful tool to help brands strategize their approach to retail."
Be Flexible with the Changing Landscape
The expansion of the food department in non-traditional channels has given grocery shoppers considerably more options on when and where they shop. Unlike women, men can be more often found in club (34 percent), convenience (21 percent) and online (6 percent) retailers for food and beverage.
Convenience is Key
Men show a preference at club, convenience and online stores because these channels allow them to easily find everything they need. With their higher household income and spending power, men are less price sensitive than women. Instead, convenience is priority.
Accommodate the Male "Search and Receive" Mode
Unlike women, men prefer to simply "search and retrieve" the few items they need rather than browse. Search and retrieve is all about getting in and out of the store as quickly as possible. And what are they buying? Their baskets are full of meat and alcoholic beverages more than women's are, but there is still a fair amount of produce, sweets and snacks.
"Don't mistake their lack of planning for lack of caring or think they are willing to accept items of lesser quality with higher price tags," says Laurie Demeritt, President and COO of The Hartman Group. "To engage with male shoppers, brands and retailers should offer tools and services to help them quickly and effortlessly locate and buy items."
About the Report
Food Shopping in America 2014 is an in-depth qualitative and quantitative study fielded in October 2014 in the U.S. marketplace. Qualitative ethnographies were fielded in two phases and more than 1,500 U.S. adult consumers participated in the online survey. The report provides insight into how food shoppers plan, decide, shop and divide their loyalties in the era of unlimited choices and blurring of channels.
About MSLGROUP's Food & Beverage Team
A category leader, the Food & Beverage team of MSLGROUP is devoted to creating economic value for the nation's food and beverage industry. It operates in offices throughout North America, representing leading food and beverage brands, and manages a state-of-the-art Culinary Content Studio in Seattle. For more information, visit www.mslgroup.com.
About The Hartman Group
The Hartman Group is the premier food and beverage consultancy in the world. Companies and brands across all segments of the food and beverage industry benefit from our unparalleled depth of knowledge on consumers, culture, trends and demand-side market strategy. We listen closely to understand our clients business challenges and tailor solutions that deliver transformative results. Through a unique suite of integrated custom, primary research capabilities, market analytics, and business strategy services, we uncover opportunity spaces, avenues for growth and deliver more compelling insights that fuel inspiration and ideas for innovation. For more information, visit: www.hartman-group.com. 
About MSLGROUP
MSLGROUP is Publicis Groupe's strategic communications and engagement group, advisors in all aspects of communication strategy: from consumer PR to financial communications, from public affairs to reputation management and from crisis communications to experiential marketing and events. With more than 3,500 people across close to 100 offices worldwide, MSLGROUP is also the largest PR network in Europe, fast-growing China and India. The group offers strategic planning and counsel, insight-guided thinking and big, compelling ideas – followed by thorough execution.