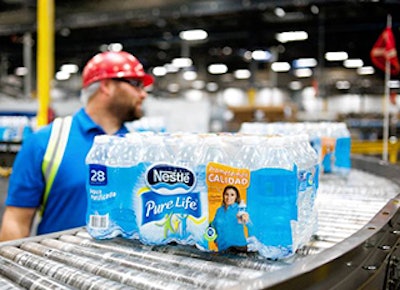 The nation's largest bottled water seller sees online sales as an increasingly vital component of its business.

Nestlé S.A., the world's largest food company, controls about one-third of the U.S. bottled water market and roughly the same percentage of the much smaller home water delivery market.

The Swiss company, however, reported that its delivery service grew by 14 percent in 2014 and 21 percent in the first quarter of this year. Its sales to retailers, by contrast, grew by just 7.8 percent and 5.5 percent, respectively, during those spans.

And the company, according to a report in The Wall Street Journal, expects that pattern to continue as consumers shop for more and more of their groceries online.

"The world is going this way," said Nestlé Waters North America President Tim Brown told the Journal. "It's the convenience factor."

Traditional water delivery involved a subscription service with trucks hauling massive 40-gallon jugs into homes and offices to refill water coolers. In recent years, however, Nestlé dramatically upgraded its software and began offering more options to consumers, including one-time orders delivered within 24 hours.

The developments resulted in rising orders for still and sparking waters under its Poland Springs, Perrier and Pure Life labels. Nestlé said customers appear willing to pay more for the convenience of home delivery rather than hauling gallons of water back from the store.

Nestlé's bottled water business, however, is not without its headaches. Nestlé operations in drought-stricken western states drew protests in recent months; in California, reports indicated that Nestlé pumped water from a Southern California creek using a permit that had been expired for years. The company later vowed to dramatically reduce water use at its California bottling plants.

The delivery trend, meanwhile, shows little sign of abating. Although some analysts scoffed at the idea of delivered water replacing the kitchen tap, companies from Costco to Coca-Cola to Fiji Water also offer online sales.