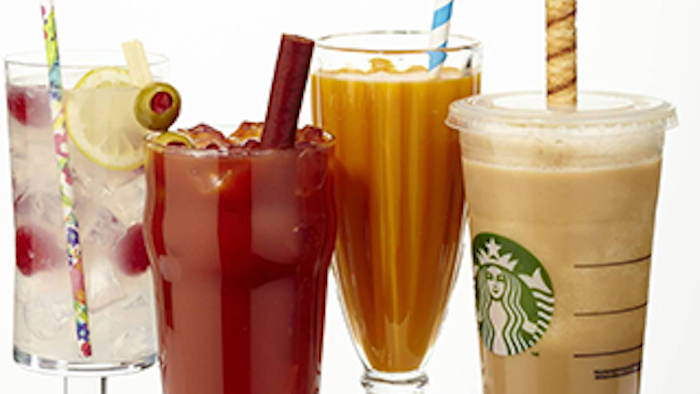 As a child, there truly was nothing more fun than a pink crazy straw that bended, curved and looped the cold beverage into my mouth.
There was no better way to drink my soda, lemonade and grape juice — until now.
Food companies around the company are toying with the ideas of using food as a means to get beverages from the glass to the mouth.
Thirsty? Hungry? Now you can satisfy both cravings at the same time! From pork to cookies, and everything in between, consumers are enjoying sipping up their drinks with delicious foods.
No more bendy straws? No need with this awesome innovation. The way it works is you start to sip through the "straws" and then finish up by dipping it in the drink and finally, eating it! Talk about a scrumptious treat!
"You can't go wrong with bacon," Jason Porat, whose bar garnishes cocktails with straws made of coiled pork slabs, told The Wall Street Journal.
Very true, Jason. Very true.
As the general manager of Saboroso Brazilian Steakhouse in Saskatoon, Saskatchewan, Porat says the restaurant is making approximately 150 straws a day. The idea came to him and his team about four years ago when they noticed the barbecue his restaurant uses to grill steaks on had a little metal bar near the bottom. 
In short, it seemed like the perfect thing to wrap bacon around. And after some experimentation, Porat said the best tasting straw takes two slabs of pork, which takes about an hour to cook.
The WSJ also reported larger companies who are reworking their straws. In April, for example, Starbucks launched a cookie straw specifically intended to complement its frozen Frappuccino. 
The straws are made from a rolled-up wafer biscuit and then lined with chocolate ganache. And according to a Starbucks spokeswoman, the straws have been one of the most popular packaged bakery items in stock.
To read more on these customized food-straws and what other companies are doing to innovate this idea, click here.