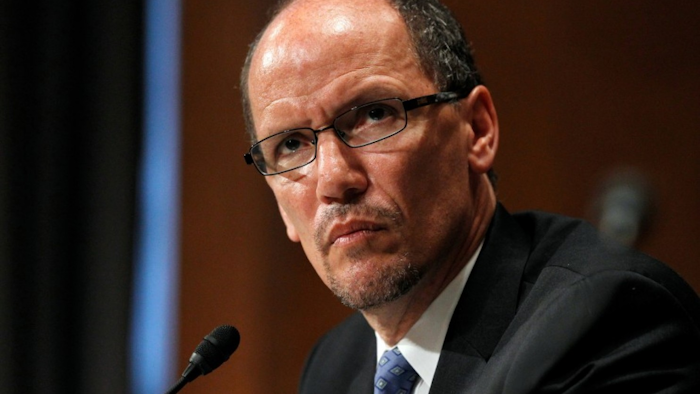 An aging workforce at two shipyards underscores the importance of training a new generation of workers with the skills needed to "punch their ticket to the middle class," U.S. Labor Secretary Thomas Perez said Wednesday.
Perez visited Maine for a firsthand look at an apprentice program at Portsmouth Naval Shipyard, a public shipyard, and a training center at Bath Iron Works, a private defense contractor.
Sen. Susan Collins, who extended the invitation to Perez to come to Maine, joined Perez on visits to Bath and Kittery.
Perez, who said he plans to take good ideas back to Washington, told reporters that the graying of the highly skilled workers at both shipyards is a cause for concern.
"We have a very important workforce imperative to make sure the next generation in Maine and across the country is prepared for the jobs of today and the jobs of tomorrow," he said.
The Portsmouth Naval Shipyard's successful four-year apprentice program earned attention from Vice President Joe Biden, who paid a September visit to the shipyard that overhauls nuclear submarines. Bath Iron Works, which builds destroyers for the Navy, opened its Trades Learning Center for new workers last year.
Both programs feature help from local community colleges, which Perez described "a secret sauce for succcess" when it comes to helping to match skills with employers.