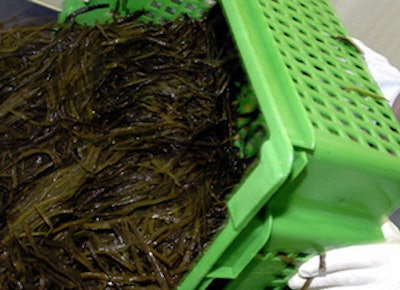 PORTLAND, Ore. (AP) — What grows quickly, is packed with protein, has twice the nutritional value of kale and tastes like bacon?
The answer, according to scientists at Oregon State University, is a new strain of seaweed they recently patented.
Dulse is a form of edible seaweed that grows wild along the Pacific and Atlantic coastlines. It's harvested and commonly used by people in dried form as a cooking ingredient or nutritional supplement.
But OSU researchers say the variety they've developed can be farmed and eaten fresh, with the potential for a new industry for Oregon.
Scientists have been trying to develop a new strain of the seaweed for more than 15 years. Their original goal was to create a super food for commercially grown abalone, a mollusk prized in Asia.
The strain of dulse they came up with, which looks like translucent red lettuce, is a great source of minerals, vitamins and antioxidants, not to mention protein. The abalone grew exceedingly quickly when fed the dulse and an abalone operation in Hawaii is now using the seaweed on a commercial scale.
But after a product development team at OSU's Food Innovation Center created new foods with the dulse, researchers began to think humans might benefit a lot more.
Among the most promising foods created were a dulse-based rice cracker and salad dressing. And bacon-tasting strips, which are fried like regular bacon to bring out the flavor.
The research team received a grant from the Oregon Department of Agriculture to explore dulse as a "specialty crop" — the first time seaweed had made the list, officials said. The team brought on a culinary research chef to further refine recipes and products.
Several Portland-area chefs are now testing the sea "vegetable" in its raw or cooked form. And MBA students at OSU are preparing a marketing plan for a new line of dulse-based specialty foods and exploring the potential for a new aquaculture industry.
There are no commercial operations that grow dulse for human consumption in the U.S. and chefs say fresh, high-quality seaweed is hard to come by.
"The dulse grows using a water recirculation system," said OSU researcher Chris Langdon, who developed the strain. "Theoretically, you could create an industry in eastern Oregon almost as easily as you could along the coast with a bit of supplementation. You just need a modest amount of seawater and some sunshine."