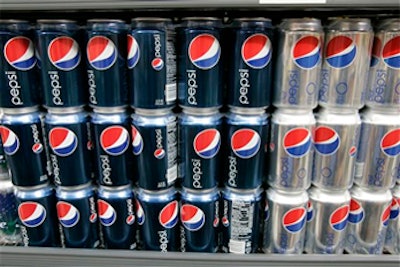 NEW YORK (AP) — PepsiCo Inc. reported a better-than-expected quarterly profit on Wednesday and said its mixed portfolio played a role, underscoring its resistance to splitting up its drinks and snacks businesses.
The company, which makes Gatorade, Tropicana, Quaker and Frito-Lay chips, said higher prices helped lift revenue for its Americas food division. Volume also rose 2 percent for the unit, its biggest division by sales.
Revenue in Europe, Asia, the Middle East and Africa also saw gains, helped by stronger volumes.
Its Americas beverage unit remained a drag, however. Revenue slipped as price hikes failed to offset a 3.5 percent decline in volume. Sodas in North America fell in the mid-single digits, while non-carbonated drinks declined in the low-single digits.
"The fact remains that the beverage category in the U.S. has its challenges, especially carbonated soft drinks," CEO Indra Nooyi said in a call with analysts. But she said productivity in the unit is improving and alluded to the company's work in trying to find a way to reduce calories in sodas while using natural sweeteners.
The results come a week after investor Nelson Peltz said he wants PepsiCo to split its beverage and food businesses and buy Oreo cookie maker Mondelez to create a major global snacks company. Peltz says PepsiCo's snacks unit is being overshadowed by its underperforming drinks unit.
The company, based in Purchase, N.Y., is often compared unfavorably to Coca-Cola Co., particularly as it has lost market share to Coca-Cola in recent years. But unlike Coca-Cola, which is focused entirely on drinks, PepsiCo now gets about half its revenue from its snacks and other food, such as oatmeal and yogurt.
In an interview on CNBC, Chief Financial Officer Hugh Johnston said that the company's variety of products helped it deliver strong results despite bad weather during the period.
For example, he noted that Gatorade sales increase when it's hot, and that Quaker and Tropicana sales increase when it's cold or when people have the flu.
"The portfolio is what enables you to power through these things," Johnston said.
Last week, Coca-Cola Co. had blamed unusually cold, wet weather for its disappointing results, saying such conditions aren't good for sales of soda and other drinks.
In an apparent dig, Johnston also noted that the deal being proposed by Peltz would benefit Mondelez shareholders; Peltz owned a $1.23 billion stake in Mondelez as of March 31, according to a filing with the Securities and Exchange Commission.
In addition to higher prices for its drinks and snacks, PepsiCo, based in Purchase, N.Y., noted that its improved productivity also helped lift operating profit during the period. It stood by its outlook for year, with core earnings per share expected to grow 7 percent.
Its stock was up 1 percent at $87.20 in premarket trading. Over the past year, it's up 25 percent.
PepsiCo has repeatedly stressed that it plans to move forward as a combined snack and drink company, and that it's not interested in any major deals. The CEO of investment firm BlackRock, which owns a 5 percent stake in PepsiCo, has said that he backs the company and disagrees with Peltz's plan.
Besides, PepsiCo is already reviewing some options that could quiet investors.
The company is considering a restructuring for its North American beverage unit, including a possible spinoff. That would mean that the company would still sell its beverages in others parts of the world, such as China and India, where the business is faring far better.
"All of the options are on the table," Johnston said in a call with reporters.
An update on that review isn't expected until early next year.
A spinoff of just the North American beverages is one of the alternative options outlined in a white paper by Peltz's Trian Fund Management.
For the quarter ended June 15, PepsiCo said it earned $2.01 billion, or $1.28 per share. That's up from $1.49 billion, or 94 cents per share, in the year-ago period when its results were hit by one-time charges as a result of a deal to expand distribution in China.
Not including one-time items, it earned $1.31 per share, above the $1.19 analysts expected.
Revenue rose 2 percent to $16.81 billion, more than the $16.79 billion forecast by Wall Street.