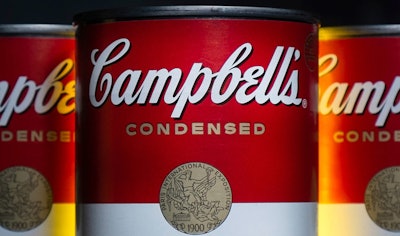 CAMDEN, N.J. (BUSINESS WIRE) — Campbell Soup Company announced Tuesday afternoon it has completed the acquisition of Pacific Foods of Oregon for $700 million in cash, subject to customary purchase price adjustments.
Pacific Foods is a leading producer of organic broth and soup1 and also produces shelf-stable plant-based beverages and other meals and sides. Organic food is an $11 billion category in the U.S., which grew at a compound annual growth rate of 15.7 percent over the past four years.2 Pacific Foods offerings will join Campbell's portfolio of organic foods, which is in the top 10 in the industry.3
Denise Morrison, Campbell's President and Chief Executive Officer, said, "Pacific Foods is an excellent strategic fit with Campbell's health and well-being portfolio with its strong position in the faster-growing natural and organic category. We are thrilled to add such a powerful and respected organic brand to our company and intend to leverage our expertise and resources to build on Pacific's track record of sales growth."
Pacific Foods will be part of Campbell's Americas Simple Meals and Beverages division, which includes Campbell's soup, simple meals and shelf-stable beverage units in the U.S. and Canada. Led by Mark Alexander, President, the Americas division includes many leading brands such as Campbell's, V8, Swanson, Prego, Pace and Plum Organics.
Alexander said, "Pacific is an authentic brand with a real food philosophy that closely mirrors our own. We deeply respect what Pacific has built, and our aim is to help Pacific to accelerate growth while continuing its purpose-driven mission: to make nourishing foods with simple, organic ingredients."
Campbell named Joe Folds as Vice President and General Manager, Pacific Foods. Folds has extensive, global experience leading businesses and brands for Campbell since joining the company in 1997. He was most recently Vice President, Strategy, Business Development and Global Brands, Global Biscuits and Snacks.
Campbell plans to invest in the business to drive growth. Campbell expects to expand distribution; boost marketing support for brand building; and invest in R&D and the supply chain to deliver operations and customer service excellence. Campbell will immediately begin to integrate Pacific Food's key functions.
Founded in 1987 in Tualatin, Ore., Pacific Foods has more than 500 employees and operates a certified organic plant where it produces its namesake products. Campbell will continue to operate Pacific Foods out of Tualatin.
1 IRI Total US MULO latest 52 weeks ending 11/26/17
2 IRI Market Advantage: Total Edible Organics US MULO, latest 52 weeks ending 11/26/17
3 IRI Total US MULO latest 52 weeks ending 10/29/17