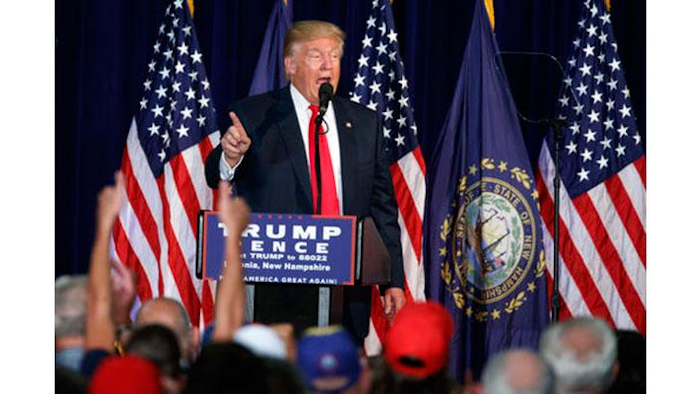 TORONTO (AP) — Canada's ambassador to Washington said Tuesday night that President Donald Trump is wrong when he says Canada's trade practices in the dairy industry are "very unfair."
Ambassador David MacNaughton said in a letter to the governors of Wisconsin and New York that Canada is aware of their letter to Trump asking him to address Canadian dairy practices.
"Canada does not accept the contention that Canada's dairy policies are the cause of financial loss for dairy farmers in the United States," MacNaughton said.
He said the facts don't bear that out and attached a U.S. Department of Agriculture dairy outlook report that "clearly indicates the poor results in the U.S. sector are due U.S. and global overproduction."
Trump spoke out against Canada on Tuesday in a way he's not done before, saying Canada has been "very, very unfair" to dairy farmers and "we're going to start working on that."
Canada changed its policy on pricing domestic milk to cover more dairy ingredients, leading to lower prices for Canadian products including ultra-filtered milk that compete with the U.S. product. About 70 dairy producers of the ultra-filtered milk, which is used to make cheese, in both U.S. states are affected.
MacNaughton writes that the Canada dairy industry is less protectionist than that of the U.S, which he says has employed technical barriers to keep Canadian dairy out of the U.S. market.
"It is important that we work together to grow the middle class, and not lay blame where it does not belong," MacNaughton writers.
The U.S. dairy lobby has accused Canada of "systemic disregard" of its trade obligations, while the Canadian industry accused its American rival of "scapegoating."
Canadian Prime Minister Justin Trudeau is worried about Trump's protectionist talk and has sent his ministers to the U.S. to talk about the importance of Canada's trade relationship with the U.S.
When Trudeau visited the White House in February Trump praised the "outstanding" trade relationship between the United States and Canada, saying he would only be "tweaking" it going forward.
Relations with the U.S. are crucial as more than 75 percent of Canada's exports go to the U.S., while 18 percent of U.S. exports go to Canada. There are fears among Canadians that they could be hurt as Trump targets Mexico in a re-negotiation of the North American Free Trade Agreement.