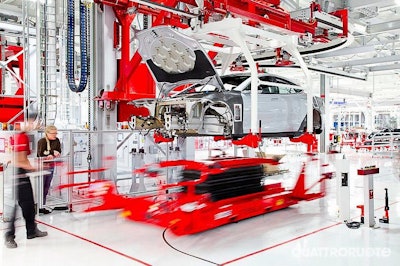 A powerful German trade union is reportedly considering a strike at a robotics company acquired by Tesla earlier this year.

The Wall Street Journal reports that workers at Grohmann Engineering are unhappy with their wages and that industrial trade union IG Metall is weighing a strike in hopes of forcing Tesla to the negotiating table.
Tesla acquired the company for $150 million in January and rebranded it as Tesla Grohmann Automation. The electric vehicle maker hopes to use Grohmann's technology to develop a highly automated manufacturing system capable of meeting CEO Elon Musk's ambitious production goals.

The company denied that it pays its Grohmann workers less than union wages and noted that employees were given a cash bonus and Tesla stock after the acquisition.

Tesla added that it is working with Grohmann employees and downplayed their support for the union. Company officials said that they are prepared "in the event there is an action initiated" and that they do not anticipate any impact on the forthcoming Model 3 mass-market sedan.

IG Metall's Patrick Georg told the Journal that workers would prefer to remain on the job and would only strike "if Tesla refuses to agree to a wage contract with us."