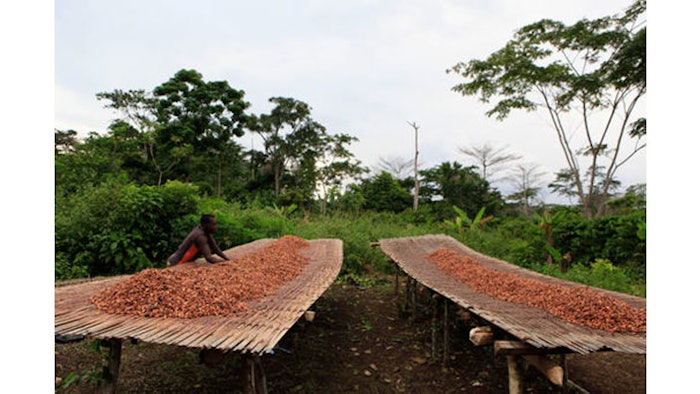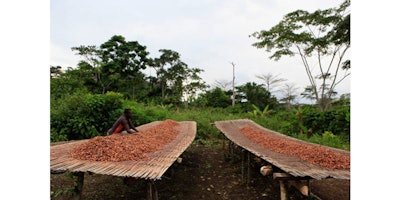 ABIDJAN, Ivory Coast (AP) — The smell of chocolate wafts from the door of an artisanal shop that would not be out of place in Brooklyn. Founder Dana Mroueh takes in the sun while riding her stationary bicycle-turned-cocoa grinder on an ambitious journey that began just four months ago.
She wants to introduce Ivory Coast, the world's leading cocoa producer, to the taste of processed cocoa beans, in the form of chocolate bars that she says are 100 percent local.
The 27-year-old Mroueh is among an emerging group of chocolate makers who are trying to show this steamy West African country that it can take more control over its cocoa industry, from bean to bar, and win over the local market.
"I think it's criminal for the planters and for the Ivorians who don't know the taste of chocolate," said Mroueh, an Ivorian of Lebanese descent who grew up watching her grandfather, a former pastry shop owner, have a difficult time selling his chocolate. "We need to emphasize the value of the Ivorian territory."
Her MonChoco Chocolate bars are priced for upper-class consumers, with prices of around $5 apiece and experimental flavors including chili and sea salt.
Fellow chocolate maker Axel Emmanuel is aiming at the other end of the market. The 32-year-old says he wants to dispel the myth that chocolate is exclusively for the rich.
"We've decided to officially make the most inexpensive chocolate bar on the African continent," said Emmanuel, who was recognized by the country's president as the 2015 Young Entrepreneur of the Year. His Instant Chocolate bars go for about 30 cents apiece.
Emmanuel sees potential in Ivory Coast's 10 percent economic growth last year, and in a small but growing middle class in many parts of Africa.
As with many of Africa's agricultural resources, the true earnings come from their transformation, he said, and farmers ought to benefit from the growing locally made chocolate market as well.
Ivory Coast has long been known for its raw cocoa production, producing about 35 percent of the world's supply. But less than a third of what it produces is turned into finished products at home.
Now the government is encouraging change. Recently, billboards sponsored by the National Coffee and Cocoa Council sprouted throughout Abidjan, the country's largest city, urging the consumption of Ivorian chocolate.
President Alassane Ouattara has said that by 2020, he hopes the country will process at least half of its raw cocoa.
Chocolate makers say the task can be done with little money and limited space, but some cocoa experts say many farmers don't yet have the skills to transform their raw product. "It's a lot easier to teach farmers good agricultural practices," said Suzanne Ndongo-Seh, director of the World Cocoa Foundation's Cocoa Livelihoods Program.
She warned that chocolate makers will have to work hard to expand their clientele in Africa, especially among more rural populations. Even though 70 percent of the world's cocoa beans originate in places like Ivory Coast, Ghana, Cameroon and Nigeria, chocolate is still considered a luxury.
Some of Ivory Coast's young chocolate makers are pitching the healthy side of their products to win over consumers.
"Our products are raw, not cooked, not roasted to conserve all the benefits of the cocoa bean because it's a product very, very rich in nutrients, to conserve also the antioxidants, minerals, and that's essential," Mroueh said.
Olga Yenou, a former employee for the French chocolate manufacturer Cemoi, called cocoa good for the heart and nervous system. "It's good when used against stress, against fatigue, and it will be a shame to consider cocoa just like a candy," she said.
Her Tafissa company turns local beans into finished products including a cocoa-and-cashew spread and a cocoa powder drink mix. Producing chocolate bars is a future ambition, she said.
In a young market, she believes there's room for more local entrepreneurs.
"We are all actors trying to spread the love of cocoa amongst Ivorians," Yenou said. "I believe the adventure will be long, as we are just getting started."