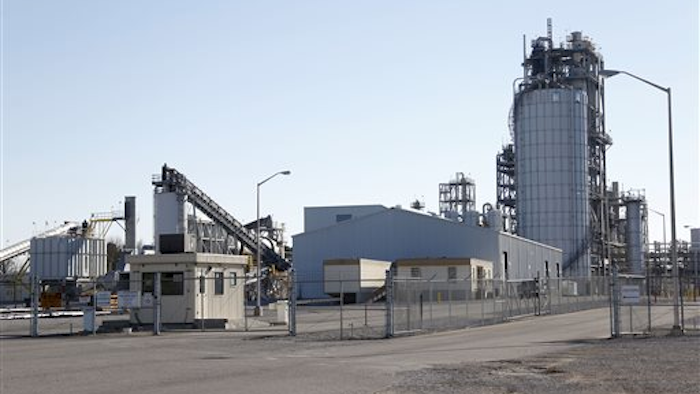 JACKSON, Miss. (AP) — Equipment from the failed KiOR biofuel plant in Columbus is being sold, but Mississippi taxpayers are likely to recover little of the $79 million that the state is seeking.
Iowa-based REG Synthetic Fuels is paying a receiver $1.5 million for some refining equipment at the KiOR plant, which was supposed to turn wood chips into a crude oil substitute. Kior started up the plant a few years ago but never achieved full capacity because of problems that plagued its production process.
Georgia Renewable Fuels said Monday it's buying wood processing equipment from KiOR. No price has been disclosed, but it's unlikely to make a big dent in the debt created when Mississippi loaned KiOR money.
Texas-based KiOR filed for bankruptcy early this year, but its Columbus subsidiary wasn't included in the filing. Instead, a state court appointed lawyer Derek Henderson as a receiver. After trying to sell the entire plant, which cost $230 million to build, Henderson won approval from a chancery judge this summer to sell the equipment piecemeal.
Henderson's sales will first reimburse the money that the state has spent maintaining the plant since it went into receivership. Mississippi Development Authority spokesman Jeff Rent couldn't immediately say Monday how much that amount was, and Henderson didn't respond to requests for comment.
After that, the next $1.1 million will go to pay property taxes owed to Columbus and Lowndes County. Local officials said Monday they expected to collect enough to pay that debt.
Only then will money be available to pay down debts owed by the plant. The state is also trying to recover its debt through KiOR's bankruptcy case in Delaware, and through a lawsuit in Hinds County Chancery Court. That suit claims KiOR investor Vinod Khosla and others knew KiOR had limited chances for success but defrauded Mississippi into loaning $75 million to the company anyway.
REG Synthetic Fuels' purchase has been approved by a judge and the company plans to relocate the equipment.
"These are quality assets we were able to purchase for very good value," Brad Albin, vice president for manufacturing, said in a statement.
Georgia Renewable's purchase has yet to be approved. Cal Garland said Georgia Renewable would like to build a plant in Columbus to make wood chips and ship them to Ireland.
"That would be nice, that would be our plan, but it's not etched in stone," he said. "We're in the process of negotiating for it."
Joe Max Higgins, CEO of economic development agency Golden Triangle Development Link said the Lowndes County Port Authority agreed to let Georgia Renewable lease the property into next year by paying $30,000 a month.
"He's buying the equipment to dispose of it," Higgins said. "That's what we expect to be done."
Higgins said a neighboring wood chip plant stopped operating after decades. He said the KiOR site, combined with the neighboring wood chip site, is a 90-acre parcel that could attract a company that would create more jobs and have a bigger economic impact that a wood chip plant.
Garland said that if the company doesn't get approval, it will move the equipment somewhere else.