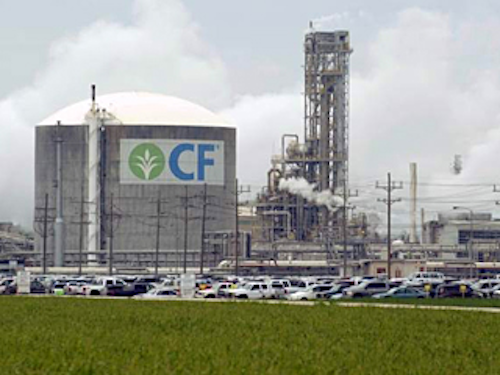 SERGEANT BLUFFS, Iowa (AP) — A company building a $2 billion fertilizer plant near Sioux City expects its workforce to exceed 4,000, which would be more than double the number of workers it once envisioned.
More than 3,600 people now are working on the sprawling CF Industries plant, and that total likely will grow by at least 400 employees as construction reaches its peak in late October or early November, according to the Sioux City Journal.
The company initially expected a peak construction workforce of between 1,500 and 2,000, but due to delays caused by poor weather and other factors, contractors have increased staffing in the hopes of meeting a targeted completion date.
"We're trying to finish up as soon as we can," project director Nick DeRoos said at a Monday meeting of the Sioux City Rotary Club. "We had to make up for a little bit of a delay, so we're overstaffing to push progress quicker so we can still get done in late first quarter, early second quarter and so we can be up and running by the middle of 2016."
Crews are at the site six days a week, as well as every other Sunday. In May, a night shift was added that brings about 600 people to work under the lights. Workers have been averaging 65 hours per week.
"We're trying to get as much work done without burning them out," DeRoos said.
When finished, the plant will triple the complex's production of ammonia, which is used in nitrogen-based fertilizer.