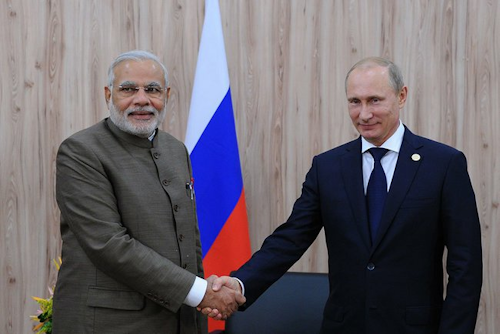 New Delhi — Russian President Vladimir Putin and Prime Minister Narendra Modi today assured industry leaders from the two countries of measures to enhance bilateral trade and investments.

Putin, who is on a visit to India, was accompanied by a high-level delegation that includes business tycoons. Representatives of India Inc. raised various issues to increase trade flows in sectors like pharmaceuticals, banking, energy and infrastructure.
"The meeting was good. The leaders assured us that they will make all efforts to resolve issues to facilitate trade and investment," said an industry representative.
The bilateral trade between the countries stood at $6 billion in 2013-14. India has received $935.68 million between April 2000 and September 2014.
Later, both the leaders inaugurated the World Diamond Conference. Twelve Indian companies have signed contracts with Russian diamond mining giant ALROSA to source diamonds worth $2.1 billion in the next three years.
In one of the biggest oil deals, Essar Group signed a $10 billion contract to import crude oil from Russia over a 10-year period. Essar signed a deal with Russia's top crude oil producer Rosneft to buy 10 million tons a year of oil, worth about $10 billion, for 10 years beginning in 2015.