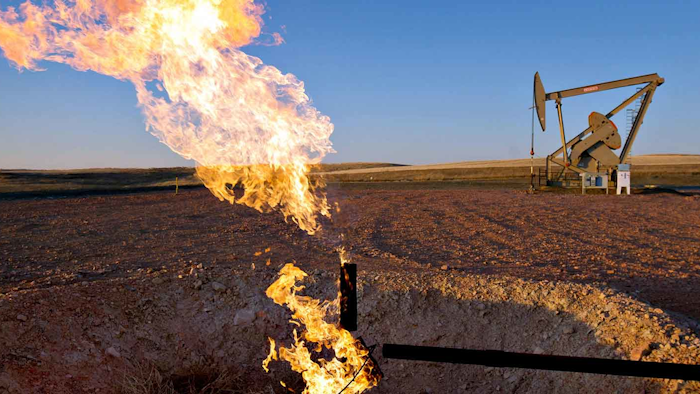 A large coalition of oil and gas groups is asking the Environmental Protection Agency to pump the breaks on the development of methane emission regulations for existing drilling sites.
In the last year, the Obama administration has stepped up efforts to curb climate change has stated a goal of cutting methane emissions, a potent greenhouse gas, by 40 to 45 percent over the next 9 years. A few months ago, the EPA finalized rules for new oil and gas sites. The agency is now in the process of receiving feedback and data from industry stakeholders for existing drilling sites.
The coalition speaking out against the agency's proposed regulations for existing sites includes 47 state oil and gas associations. According to The Hill, the groups said the EPA's data-collection procedure for the new methane rule "has all the signs of a rushed job."
The groups have formally asked the EPA to reconsider its information request.
One of the industry's major trade groups, the Independent Petroleum Association of America, also sued federal regulators this week over the methane rules for new sites. The IPAA was joined by more than a dozen other states in suing the Obama administration for what they called "unlawful federal overreach" that could jeopardize jobs.
The IPAA is expressing similar concerns about the methane rule-making process for existing sites that's currently on the table.
"We found significant elements of the agency's new regulatory scheme to be excessive, uneconomic, and threatening to the long-term production of oil and natural gas in the United States without corresponding environmental benefits," IPAA executive vice president Lee Fuller said in a statement.
"After more than a year of trying to communicate industry's concerns to the EPA on the economic burdens associated with this new rule, during an already economically challenging time for the industry, independent producers were compelled to pursue legal pathways since the final rule omits flexibility for smaller, independent companies."
Federal officials has estimated that the new methane rules could cost the industry $530 million by 2025, but assert that it will be outweighed by health care cost savings of around $690 million.