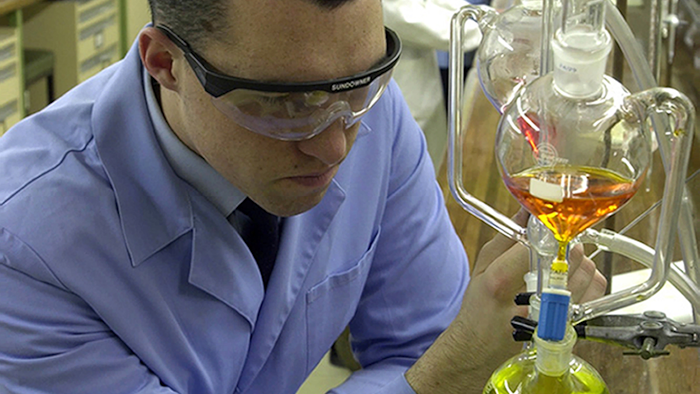 Industry experts anticipate that U.S. universities will generate nearly 10 times more chemists than available chemical industry jobs over the next decade.

Bryan Balazs of the Lawrence Livermore National Laboratory also said that chemistry jobs will lag behind other sciences in employment growth in coming years.

Balazs participated in a recent American Chemical Society task force on employment issues convened by ACS President Donna Nelson. Chemistry World reports that the panel presented its findings at the ACS annual convention in San Diego over the weekend.

"When the supply of bachelor's degree chemists outpaces the demand, then you get into a problem, and the inverse is true," Balazs said.

Balazs told CW that physical and life sciences and engineering jobs are expected to grow by 13.5 percent between 2012 and 2022, but that chemical industry jobs will climb by just 5.6 percent over that span.

In the manufacturing sector, meanwhile, chemical-related jobs in are expected to decline across the board.

Karl Haider, another task force member and the head of business growth services at Covestro, added that just 55 percent of new chemistry graduates are employed in the industry.

The unemployment rate among those graduates steadily increased over the past decade and now stands at 12.5 percent, and salaries in the chemical sector are generally flat or declining.

Fellow panel member Tiffany Hoerter of DuPont added that undergraduate and graduate degrees in the U.S. increased sharply since 2004.

CW reported that record numbers of foreign-born students entering U.S. universities were likely a key contributor to the current labor market.

The task force urged ACS officials to examine chemical education in the U.S. and to call for more business-friendly legislation to bolster the domestic chemical industry.

ACS members, meanwhile, reportedly suggested a number of possible remedies -- including curbing the number of undergraduate chemistry students and reducing immigration.