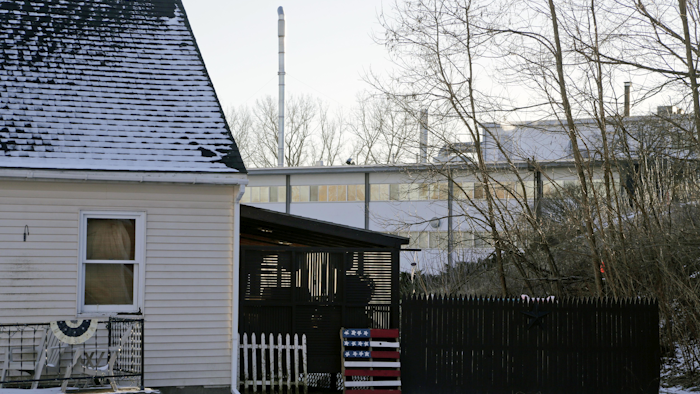 ALBANY, N.Y. (AP) — The state of New York is investigating possible illegal dumping of commercial waste in a town that's already the focus of a water contamination probe.
Police from the state Department of Environmental Conservation, armed with a search warrant, searched woods Friday near the main road through the town of Hoosick Falls, near the Vermont border, DEC spokeswoman Emily DeSantis said. She said a tipster reported the dumping of waste containing PFOA, a chemical used in making Teflon and other nonstick and stain-resistant products.
The tip came as the DEC and the U.S. Environmental Protection Agency investigate PFOA contamination of the town's public water supply, which serves 4,500 people. The chemical has been linked to cancer and other illness.
Saint-Gobain Performance Plastics, the suspected source of the water-supply pollution, is providing bottled water for residents and paying for a filtration system in the village.
The water contamination was revealed in 2014 by lab tests paid for by a private citizen, Michael Hickey, who was looking for answers after his father died of cancer. The state Health Department launched a health study in the village this month.
While DeSantis wouldn't give the precise location of the search location, Hickey said it's behind a now-abandoned factory just outside the village that made Teflon tape used by plumbers. Albany television station WTEN filmed numerous large rolls of plastic in the overgrown lot. Hickey said various manufacturers have dumped material there over the years.
An elevated level of PFOA was reported recently in a test of the water well at a school bus garage close to the site.
New York state officials have put the Saint-Gobain plant on a state Superfund list and have asked the federal Environmental Protection Agency to make it a federal Superfund site to expedite investigation and cleanup.
Saint-Gobain, part of a Paris-based conglomerate, is the fifth owner of the Hoosick Falls plant, having bought it in 1999. The company hasn't acknowledged any responsibility for the contamination.