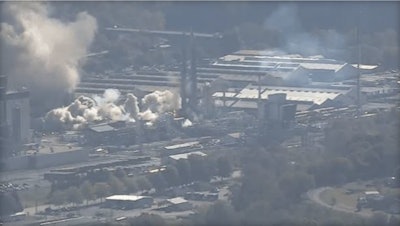 An explosion at an Eastman Chemical plant in Kingsport, Tenn., released large plumes of black smoke on Wednesday morning.
According to CBS News, there were no injuries reported with the accident. But workers and some nearby residents were temporarily asked to shelter in place as a precaution.
The Eastman facility is located at a manufacturing complex north of Knoxville and on the border with Virginia.
According to Eastman, a "process upset" near a part of the plant that deals with coal gasification caused the "loud noise and visible plume."
On Tuesday, Eastman announced that it would be conducting a series of in-plant warning system tests at the Kingsport facility this week. The company reported that nearby residents may hear alarms going off through Wednesday afternoon.
Eastman's Kingsport manufacturing site was founded in 1920 and produces chemicals and other products used in paints, plastics, pharmaceuticals and more.