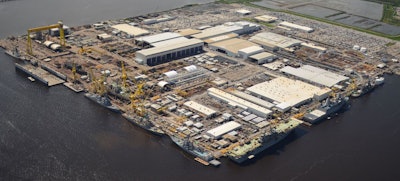 One of the nation's largest military shipyards is paying $9.2 million back to the federal government in an overbilling settlement.
The U.S. Justice Department announced the settlement Tuesday with Huntington Ingalls Industries. The Newport News, Virginia, company operates the 10,000-employee Ingalls Shipbuilding in Mississippi.
The settlement resolves allegations that Huntington Ingalls charged labor costs to contracts for which work wasn't actually done, and charged the government as if supervisors had dived to work on ship hulls, or even for dives that never happened. The charges were made to U.S. Navy and Coast Guard contracts.
The allegations were originally brought on behalf of the government by a former Huntington Ingalls employee named Byron Faulkner. Under federal law, he'll get $1.6 million.
Federal prosecutors say problems ran from 2003 to 2015.