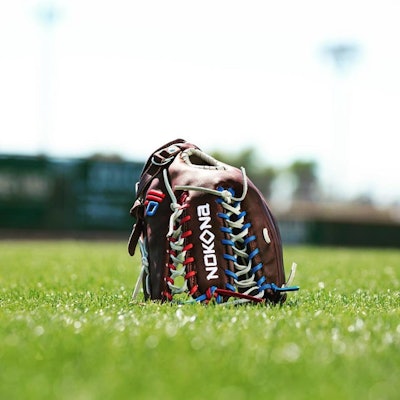 Nokona has been manufacturing baseball gloves for so long, the company plans to open a museum in its new facility. Right now in its current space, $5 will buy you a tour to see the "last American ball glove" in production.
If the company wanted to decrease production costs, it could pack up and move its manufacturing operations to Asia, where most of the other baseball glove makers have gone. But the company's executives have refused. And so, for 83 years, the company has maintained a manufacturing space in the small town of Nocona, Texas.
According to a recent report in Bloomberg, the company's decision comes from a stubborn devotion to keeping this piece of America's favorite pastime made at home.
The company was founded by C. McCall and originally made wallets and purses, before branching out in the 1930s to making gloves for the growing sport of baseball. When outsourcing in the industry picked up in the 1960s, the company decided to buck the trend.
As Rob Storey, McCall's grandson and the company's executive vice president, tells it, McCall used to say, "If I have to tell my employees we're closing up and they don't have jobs anymore, I may as well get a bucket of worms and go fishing."
The economics for staying in America haven't always been favorable. In 2010, the company filed for bankruptcy but was bailed out by a football glove maker in Arizona who bought a majority stake in Nokona.
But Nokona has found ways to keep its production lines humming.
Nokona's gloves can cost as much as 25 times more than other brands and range from a $130 kid's glove to $500 models for professionals. But the gloves can be customized for every player's preferences.
After the company completes its move to a larger facility near its current plant, it also hopes to draw even more visitors for tours of its manufacturing line, which involves 40 steps for each glove and can take hours.
Nokona doesn't attract as many big league player endorsements as other glove makers, but emphasizing the handmade, craft nature of its products has given it additional marketing tool.
And while Nokona has wavered slightly from its all-American stance — the company has begun importing partially assembled gloves from China for some of its models — 98 percent of its products are still made in Texas.
While the company is hanging on to a small share of the market — it employs 35 workers in Texas and ships 40,000 of the industry's 6.2 million gloves annually — it represents many of the bigger promises and challenges of manufacturing in America.
And for now, Storey doesn't have any interest in leaving because, as he told Bloomberg: "I'm crazy. This is all I know how to do."