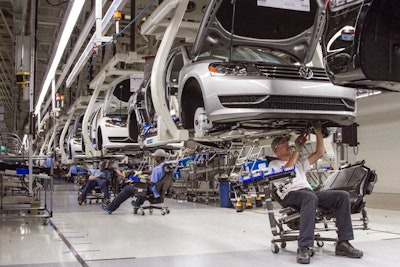 Volkswagen's chief executive declined to rule out merger talks with Fiat Chrysler following his company's annual press conference this week.

Fiat Chrysler CEO Sergio Marchionne for years argued that the auto industry should consolidate in order to share rising capital and product development costs.

He floated the possibility of a merger with fellow Detroit automaker General Motors in early 2015 and pursued a variety of agreements with tech companies.
And last week, he suggested that the purchase of GM's European brand Opel by Peugeot parent PSA Group could prompt VW, Europe's top automaker, to discuss a tie-up with its Italian-American rival.

VW CEO Matthias Mueller initially responded that the German company is "not ready for talks about anything" as it continues to recover from its diesel emissions scandal and shift its strategy toward electric vehicles and autonomous technology.

In the wake of this week's press conference at its Wolfsburg headquarters, however, Mueller told reporters that he is "not ruling out a conversation," according to Reuters.

Mueller added that he is confident in the company's prospects "with or without Marchionne," and suggested that Fiat Chrysler should make merger overtures directly rather than through the media.

"It would be very helpful if Mr. Marchionne were to communicate his considerations to me too and not just to you," Mueller told reporters.