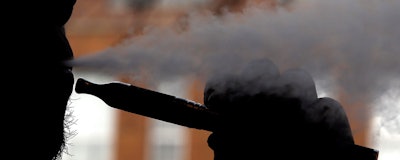 Federal officials this week unveiled a rule to extend cigarette regulations to all tobacco products, including fast-growing e-cigarettes.

The final rule from the Food and Drug Administration would officially ban the sale of e-cigs, cigars and hookah and pipe tobacco to minors for the first time.

Health officials also said that the regulations would allow the FDA to evaluate those products' ingredients and health risks while preventing misleading marketing claims and appeals to young people and non-tobacco users.

"As cigarette smoking among those under 18 has fallen, the use of other nicotine products, including e-cigarettes, has taken a drastic leap," Health and Human Services Secretary Sylvia Burwell said in a statement. "All of this is creating a new generation of Americans who are at risk of addiction."

The rule would subject all tobacco manufacturers the Family Smoking Prevention and Tobacco Control Act of 2009, which requires cigarette producers to list manufacturing plants and products, disclose their ingredients and include health warnings on packaging and advertisements.

Tobacco companies will also be required to receive authorization to sell new tobacco products and to market them as "light," "low" or "mild."

The rule will ban distribution of free samples and sales in vending machines — unless in an adult-only facility — and will require retailers to verify customers' ages with a photo ID.

Although e-cigarettes are routinely touted as safer than conventional cigarettes, studies suggest that they are just as addictive and their ingredients remain largely under wraps. One common ingredient, the flavoring chemical diacetyl, is linked to severe lung disease.

The rule will take effect in 90 days, but manufacturers can continue to sell their products for up to three years while they submit applications to the FDA and undergo an agency review.

The requirements apply to "new tobacco products" on the market before February 2007, but reports noted that nearly all e-cigarettes debuted after that date. Some in Congress hope to push that date back in order to grandfather more products under the old rules.

The e-cig industry criticized the rule and argued that it would dismantle smaller companies and curb a popular smoking cessation tool. One advocate told USA Today that the application requirement would effectively cost manufacturers $1 million for each variety of e-cig.

Health advocates countered that the rule is crucial, particularly given the rapid rise in e-cig use among young people.

"From a health perspective, to reduce the social acceptance of them is good because frankly, it's the wild, wild West out there," Ellen Hahn of the University of Kentucky College of Nursing told USA Today. "Vape stores are everywhere."