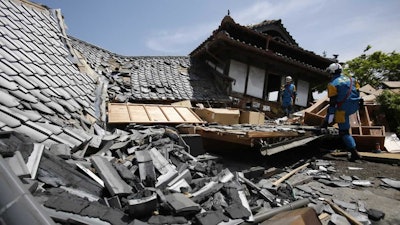 General Motors is on track to resume full operations at four North American plants where vehicle assembly has been halted because of supply chain interruptions caused by earthquakes in Japan.
GM spokesman Tom Wickham confirmed Wednesday that manufacturing that was put on hold on April 25 is expected to resume on May 9 at plants in Spring Hill, Tennessee; Lordstown, Ohio; Kansas City, Kansas; and Oshawa, Canada.
U.S. workers covered by the United Auto Workers contract with GM receive about three-quarters of their gross wages while assembly is idled.
The powerful earthquakes that struck southwestern Japan last month killed 49 people and disrupted manufacturing and logistics.
Company, union and state officials met at the Tennessee plant last week to celebrate a $790 million investment to build a new high-efficiency engine and upgrade vehicle production, creating nearly 800 jobs at the facility.
Mike Herron, the chairman of UAW Local 1856, said the company had little choice but to stop assembly of the Cadillac XT5 midsize SUV at the plant that will also begin producing the GMC Acadia later this spring.
"There's some integral electronics that are used in the entire auto industry," Herron said. "The parts are made solely in Japan and it's impacting everybody to some extent."
GM's North America Manufacturing Manager Arvin Jones said the company was working to minimize the shutdown due to the parts shortage.
"As we go through this we're trying to figure out how we balance ourselves off to keep us rolling and continuing our production," Jones said. "We have suppliers all over the world — that's the balance of the business, and we're working through all the issues."
GM produces the Chevrolet Cruze in Lordstown and the Chevrolet Malibu in Kansas City. The flex line in Oshawa makes the Chevrolet Camaro and Camaro Convertible, Chevrolet Impala, Buick Regal and Cadillac XTS. 
The company has said that the two-week halt to vehicle production is not expected to have a "material impact" on annual production plans or financial results for GM North America.