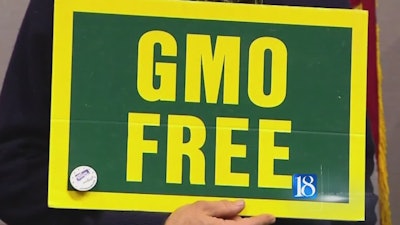 Vermont officials hope to defend the state's looming food labeling requirement with help from some of the world's largest agrichemical companies.

The Wall Street Journal reports that Attorney General William Sorrell filed motions across numerous federal courts seeking internal research on genetically modified crops conducted by DuPont, Monsanto, Syngenta and other seed companies.

State lawmakers in 2014 enacted the nation's first law compelling food companies to label the presence of genetically modified ingredients, or GMOs, in their products.

The measure is scheduled to take effect on July 1, but the Grocery Manufacturers Association — an industry group representing numerous large food and beverage companies — is fighting the law in federal court in Vermont.
Vermont Assistant AG Kyle Landis-Marinello said that company documents could prove to be significant as the case proceeds.
"We think these are really the bare minimum documents that they should be giving us," Landis-Marinello told the Journal.
The Associated Press reported that DuPont contested the filing and asked a judge to move the matter to Vermont federal court. Monsanto officials told the Journal that the company also plans to "oppose the motion as untimely and unwarranted."
Food companies and health authorities classify GMOs as safe, but critics argue that they could pose unintended health and environmental consequences — particularly as farmers increasingly use pesticides on crops genetically engineered to resist them.
The Journal reports that Vermont attorneys are also seeking consumer research on GMO labels from food giants ConAgra, Kellogg and Frito-Lay.
As the Vermont lawsuit continues, Campbell Soup and other companies vowed to implement GMO labels nationwide rather than alter products for the small New England state.
Pending legislation in Congress backed by the food industry would establish a voluntary GMO-free label and pre-empt state labeling laws like Vermont's, but that measure has stalled in the U.S. Senate.