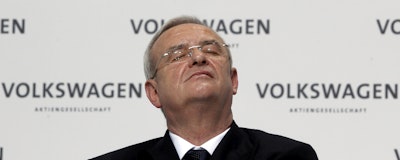 Volkswagen could face stiffer penalties from its diesel emissions scandal after internal documents suggested that the company stonewalled investigators for months.

The New York Times, citing initial reports in the German paper Bild am Sonntag, reported that top VW executives were alerted to a possible investigation in early 2014.

The German automaker, however, did not acknowledge its use of software to manipulate emissions levels until disclosed by U.S. regulators in September.

The scandal cost then-CEO Martin Winterkorn and other top officials their positions and hit the company's sales and stock prices hard.

The German automaker already faced the prospect of billions in fines and penalties, but the memos and emails detailed in this week's reports could indicate that officials knew about the scandal ahead of time and misled investigators.
The documents also suggest that the company violated laws requiring public disclosure of information that could affect stock prices. That could potentially cost VW in lawsuits filed over the impact of the emissions scandal on the value of its shares.

The U.S. Department of Justice previously alleged that the company "impeded and obstructed" investigators in a civil lawsuit filed last month in Detroit federal court.

VW sources told the Times that the company did not hamper investigators and that the documents painted an inaccurate picture of what company executives knew about the scandal.

A federal investigation that could result in criminal charges remains ongoing.

European authorities authorized a recall process for affected VW cars in the EU, while the company and federal authorities are deadlocked on a more extensive process in the U.S.