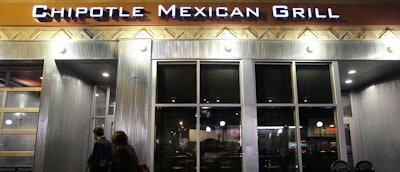 Federal health authorities are reportedly investigating another potential E. coli outbreak involving Chipotle restaurants.

The Centers for Disease Control and Prevention said that five people reported illnesses starting between Nov. 18 and Nov. 26. All five — one in Kansas, one in North Dakota and three in Oklahoma — ate at the Mexican chain in the week prior to falling ill.

Chipotle was already dealing with a series of food safety issues following an E. coli outbreak that sickened dozens across the country in October and illnesses linked to norovirus in Massachusetts this month.

The CDC said that it does not know if the latest outbreak is linked to the October illnesses. The rare E. coli STEC O26 bacteria was responsible for both, but officials said that the latest cases show a different DNA footprint.


Neither the company nor food safety officials know what product caused the outbreak, and co-CEO Steve Ells recently said that the exact source is likely to remain a mystery.

A Chipotle spokesman said this week that the company anticipated additional cases cropping up. The chain previously made a series of changes to its food sourcing and preparation practices in the wake of the earlier outbreak.

"With all these programs in place, we are confident that we can achieve a level of food-safety risk that is near zero," spokesman Chris Arnold told The New York Times.