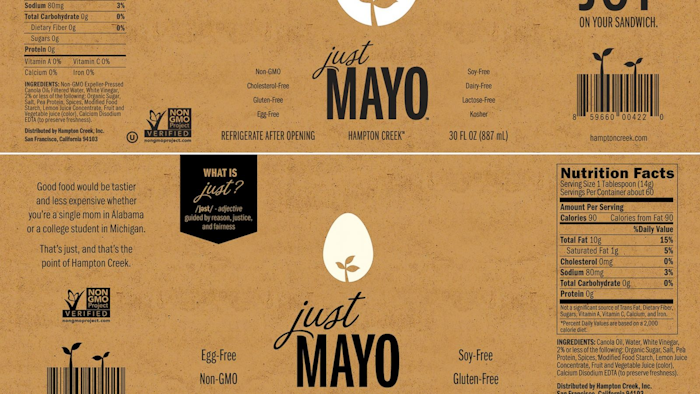 After months of back-and-forth debates, Hampton Creek says that the Food and Drug Administration will allow the Just Mayo brand to keep its name, despite the fact that their "mayonnaise" doesn't contain eggs.
Instead, the company says that they were able to work out a deal with the FDA to slightly amend the Just Mayo label.
Hampton Creek says that the words "egg-free" will appear larger and that "Spread and Dressing" will also be added to the new label. The recipe for the vegan-friendly spread will remain the same.
This news puts an end to a months-long saga that began in August when the FDA sent a warning letter to Hampton Creek.
The warning stated that the Just Mayo product violated federal standards, because a product cannot be marketed as mayonnaise that doesn't contain eggs.
The FDA said that using the term mayo in the name "Just Mayo" could also mislead consumers due to this case of "misbranding."
The FDA has yet to confirm the news that a deal has been reached.
Do you think that the FDA's decision to allow Hampton Creek to retain the Just Mayo name is a bad one? Is it odd that the FDA would retract their original warning?
Comment below or tweet me @MNetAbbey.