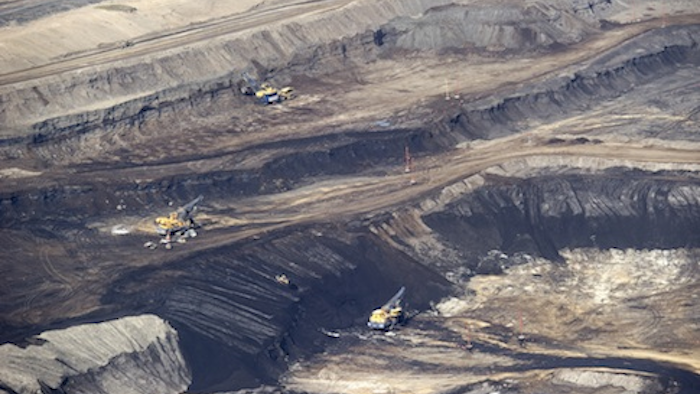 Officials in the Canadian province of Alberta announced plans over the weekend to levy taxes on carbon dioxide emissions and implement an overall cap on emissions from its vast oil reserves.

Premier Rachel Notley, who was elected last year as the first liberal leader of Alberta in more than 40 years, signaled her intentions to diversify the province's energy mix earlier this year.

On Sunday, she announced the Climate Leadership Plan at a press conference in Edmonton.

"It will help us access new markets for our energy products and diversify our economy with renewable energy and energy efficiency technology," Notley said. "Alberta is showing leadership on one of the world's biggest problems."

The proposal would cap emissions from Alberta's oil sands — one of the largest reservoirs in the world — at 100 megatons per year. The sands currently contribute about 70 megatons annually, but they are growing rapidly.

In addition, the plan would set a $20 per ton price on carbon at the beginning of 2017 and increase it to $30 per ton the following year.

It would phase out the use of coal-fired electricity in the province and replace it a mix of renewable energy and natural gas by 2030. About two-thirds of that energy would come from renewable sources, officials said.

The proposal also aims to reduce methane emissions by 45 percent from 2014 levels over the next decade.

The plan represents a dramatic public policy shift for Alberta, which is home to tens of thousands of energy jobs but lost at least 37,000 in the wake of sliding oil prices.

Oil industry leaders were initially supportive of the proposal.

"This plan will make one of the world's largest oil-producing regions a leader in addressing the climate change challenge," said Steve Williams, the CEO of Calgary-based Suncor, the nation's largest energy company.

The carbon tax is expected to generate $3 billion annually but increase prices at the gas pump and for home heating.

Notley said that some of that revenue would go toward helping lower-income families meet those increased costs. The remainder would be reinvested in clean energy projects in the province.

"Low- and middle-income families will get support to help them make ends meet," Notley said.

Critics, however, warned that the plan would result in dire consequences for the province's economy.

"This new carbon tax will make almost every single Alberta family poorer, while accelerated plans to shut down coal plants will lead to higher power prices and further jobs losses," responded Brian Jean of the opposition Wildrose party.